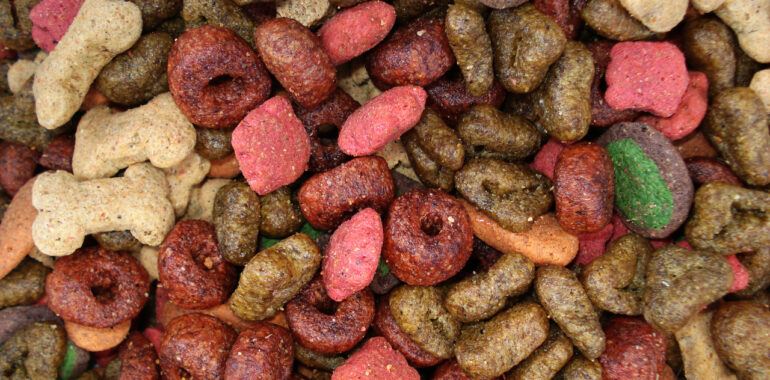 I've been getting asked this question often lately, what is the best high calorie dog food? There are a lot of dog food companies out there that claim their product is the best. I mean, obviously they want you to buy their dog food over their competitors. And, in case you haven't been one to ask me yet, what is high calorie dog food? People that look specifically for this kind of food either A: Have their dogs in a lot of sports, or B: Need to add some pounds to their dogs quickly.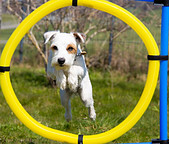 Many dog owners that rescue dogs would be looking to add pounds to their dogs quickly. Many rescues, unfortunately, are malnourished, so they need to gain a little weight to be healthy.
Dogs that compete in shows on a regular basis, or are very active, tend to need a higher caloric intake than your typical house dog. Think of humans in terms of needing more food when they're very active. Same concept.
Now that you know more about why dogs need high calorie dog food, let's look at some brands.
Purina Pro High Protein Sport Performance.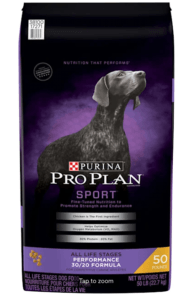 This specific formula of Purina Pro is a slightly better formula than their grocery store brand, Purina One. Purina Pro typically has a ratio of 30% protein, and 20% fat. This ratio helps any dog to gain some weight when they're fed this every day. Looking at the ingredients, there are some things that I'm a bit hesitant on, and that's just because corn is included in the food a couple of times. Why do I say this?
Well, corn in any dog food is typically used as a filler. Meaning, instead of more proteins, corn is thrown in there to make more food, thus the company makes more money. Face it, corn isn't exactly super nutritious, especially when it's used as an ingredient in dog foods.
However, even with that, yes, it is a higher caloric food and if you need to pack on weight for your dog quickly, this is a good way to start.
The Farmers Fresh Dog Food.
Farmers Fresh Dog Food is a fresh version of food that you can order online and it's all made fresh. Not many dog food companies have started doing this, but they're getting there as of recently. More dog owners are becoming aware of the garbage that can be included in the bagged foods we buy from the stores. By-products, meals, corn ingredients and other preservatives.
Not all dog foods are created equally.
Some dog food brands are actually dangerous for dogs, but I won't name them here. But, companies like Farm Fresh actually uses real USDA approved ingredients, they slightly cook the ingredients so that they're not just charred stuff once done and send the bags to you. Often, ingredients like beef, veggies, brown rice, oatmeal are what are used in this food. All these things are good for dogs.
I will say, if you live in Hawaii or Alaska, unfortunately, they don't ship to these two locations. Only the continental US. But, you can also make this kind of food at home as well.
Making Your Own Fresh Food.
It's actually pretty easy to make your own dog food to be honest. Most people think it's really expensive to do this, but it isn't. Especially if you live in the states. You can buy all kinds of organ meat, and butcher scraps for super cheap. Even chicken scraps. Yes, dogs can eat raw chicken. I promise.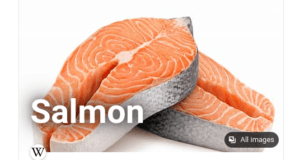 Then, you simply take some sort of grain – remember, grains are going to help with the calories, so you need these. I typically use brown rice or oatmeal in my dog foods.
The ratio is what is a little hard sometimes, but you want to focus on the proteins for your dogs. When I end up making the food, I tend to cook too much brown rice, so I always have to just put some in a container for the next batch. I also like to use salmon that's been freezer burnt. Now, with fish like salmon, I do cook it. Often, there are worms in the salmon that can wind up in your dogs system, and that's not good. So, I cook the salmon until it's done.
Steam some veggies slightly, mix in the rice and the salmon – making sure all bones are picked out and voila! Fatty food with the fish. And let me tell you, my dogs love this stuff!
Wellness Dog Food.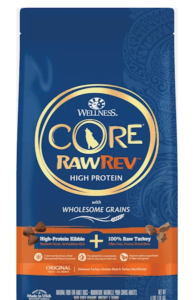 The last on my list is the one brand that I will always back no matter what, and that's the Wellness brand. Their ingredients aren't fillers, nor is there a bunch of junk in these foods. No matter which kind I get for my dogs, they love it. I don't buy the high calorie dog food, since my dogs are at a good weight. But, for high calorie dog food, look for the High Protein one.
Any dog food that is high protein is meant to be a higher caloric dog food. Now, if your dog isn't skinny, don't buy these kinds. If your dog is at a normal weight, then any Wellness food is just fine. I happen to like the Wellness Raw Rev Digestive Health.
Note – how do you know if you dog is at a normal weight? When your dog walks, you should be able to see their ribs as they walk. Their ribs shouldn't all be visible though. Just a couple of ribs here and there as they walk. If you can't see any at all, then you don't need a high calorie dog food.
Final Words on High Calorie Dog Food.
Hopefully I've given you some ideas on good dog foods that you can buy from most pet stores. Even though Farmers doesn't ship to Alaska, there are some fresh dog foods that are becoming more available. Or, of course, make it yourself. If it's beef, no need to cook it. Chicken? They can eat that raw too, along with eggs.
I only cook fresh water fish just so my dogs don't get worms. That is a concern for me, no matter what. Worms can transfer from fish to animals, so beware.
Also, any dog food can be a good dog food. But, only if you can read the ingredients. I'm not saying, sound out the complex ingredients like Sodium Selenite. If you don't know what it is, it's probably not good. Also, stay away from by-products. By-products are a nice way of saying, we threw in a shred of meat from that chicken, but the rest? We don't know what it is.
That's about it. High protein %'s, high fat %'s, and ingredients you can read. All dog foods have labels on the back listing what's in the bag. Don't be fooled by the pictures on the front either. Just flip that bad boy over and read away. Lots of chemicals? Better to move on to the next.
What high calorie dog food do you use? Do you just throw some meat on their food to help them gain weight? How about some eggs? Share with those that might need it for their dogs!