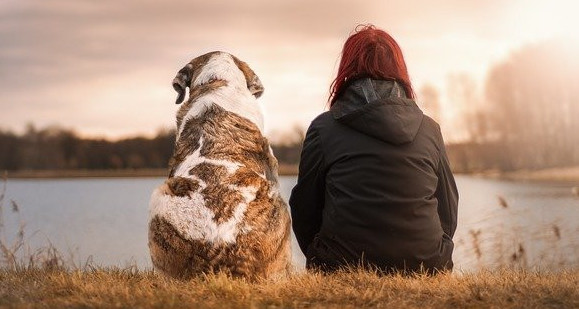 Many people that don't have dogs might argue that mental disorders in dogs don't exist. However, for those that have dogs in their life will argue this. Dogs, like humans, can suffer similar mental disorders. They just might not always be as transparent as a human asking for help.
How do you know if your dog suffers from mental disorders? Well, they exhibit certain behavioral aspects at certain times. For example, if you leave them home alone, they might chew up your couch. Maybe, they decide to go to the bathroom all over the house instead. Certain behaviors are indicators of mental disorders in dogs. But first, let's look at what kinds of disorders they might have.
One of the Mental Disorders in Dogs is Anxiety.
Dogs suffer anxiety more than any other animal I've ever had. Sure, cats can get this too, but they're not as apparent as dogs. Anxiety in dogs comes in many forms. One of the most common is Separation Anxiety. This is when you leave your dog at home alone and they suffer from the separation. Many dogs actually don't like to be alone. They are pack animals at heart and thrive best when others are around.
The problem is, we can't always take our dogs with us when we leave. So, how do you handle the separation anxiety? How do you even know your dog is suffering from this?
How can you Tell they have Separation Anxiety?
Separation anxiety is usually pretty easy to know if your dog is suffering from this when you leave. Generally, dogs will lash out by chewing things. Not because they want to upset you. They simply
chew on things when they're anxious and it helps to calm them down. I had a dog that ate carpet and drywall. Every time I left her for extended periods of time, I would come home to a new hole in my wall.
Extended periods of time would be longer than a typical work day. Normally, I would have a dog sitter at my house if I had to leave overnight. However, it wasn't me, and my dog was still anxious that I left. There were only a few occasions that I had to do this, and each time was different. A hole in the wall, here. Missing pieces of carpet in the middle of my living room.
What Did I Do to Help Her?
In order to help my dog from her separation anxiety, I kennel trained her. Some might think this was wrong, but it was her safe place. I didn't go and leave her in the kennel by the way, overnight. My dog sitter would still let her out throughout the day and night. But, I noticed that once she was crate trained, she was no longer anxious when I had to leave. She would go to her kennel, wait for me to shut the door, and she would go right to sleep.
I actually noticed that anytime she started to feel anxious after this, she would go right to her kennel. Simply because she knew, it was her safe place and she couldn't be harmed in there. When I knew I was leaving for an overnight trip, I would actually put things in her kennel that smelled like me. Usually a sweater that I hadn't washed yet. This would also calm her down.
Since animals love the smell of us, they feel safer when they have that smell next to them. Sometimes, a blanket that you haven't washed, or a sweater will help. Sounds that she could hear also helped her. So, I always instructed my house sitter to leave the TV on for her.
If your dog suffers from anxiety and nothing helps, you might want to check our CBD for pets as well.  This helps tremendously.
Another of the Mental Disorders in Dogs in Phobia's and Fears.
Dogs have fears and phobias just like we do. Some dogs fear large sticks. Or, they might fear fireworks. In fact, many dogs fear fireworks and can have major issues once fireworks start to go off.
Atlas actually fears wasps now. She was stung by a hive last year, I don't know how many times. But her face swelled up like a balloon. After that day, when she sees a wasp near her, she goes the opposite direction.
When dogs suffer from a traumatizing event, they develop a fear or a phobia like we do as humans. Some dogs, that may have suffered with previous owners, will exhibit fears at different times. I've seen some dogs that fear large sticks and will lash out at anyone holding one. They may have been beaten with a stick by their previous owner. So, now they view that big stick as a weapon to harm them. Even if you intended to simply play with them, they won't know that. Yet.
How To Handle Fears and Phobias.
Many dogs, as mentioned that have come from different homes will most likely have a fear that they show down the road. When a dog shows this, it's best to stop whatever it is you're doing and calmly comfort them. In the event it's a stick, you throw the stick far away and show that your hands are empty to your dog. Then, in a calming manner, you call their name and say, "It's okay".
Try to comfort them and pet them. Let them know that you're not going to hurt them. Showing that your hands are empty will help them to understand you meant no harm. Dogs are similar to us. They want to see that you're not there to hurt them.
Fear of Fireworks may be a Little More Difficult.
I've seen some dogs that run under beds and shiver uncontrollably. My previous dog, Annie, was extremely afraid of fireworks. The loud bangs hurt their ears more often than not, and dogs are afraid of them. At times, she would run under the bed, or cower in a corner. When I would go and try to find her, she would be shivering all over.
During nights of celebration, because I knew she would be afraid, I would actually play a movie very loud. More loud than usual. I would also close all the windows and doors to try to muffle the sound as much as possible. I would then move her kennel to where I was sitting in the living room, right next to me as well.
Once the fireworks hit the first time I did this, she was fine. She could barely hear them going off. She still went to her kennel beside me, and I simply left the door open. After about 20 mins, she realized that she was okay and came out to sit next to me on the couch. I forgot to mention that I had treats next to me, so that when she came to sit beside me, I gave her some. I also comforted and praised her as well.
She didn't seem to mind fireworks as much after this, but I still never left her home alone during any kind of firework celebrations.
Third Disorder in Dogs is Depression.
Yes, dogs get depressed. However, depression in dogs is not like depression in humans. First off, dogs can't commit suicide. Nor can they express that they're feeling down. When dogs get depressed,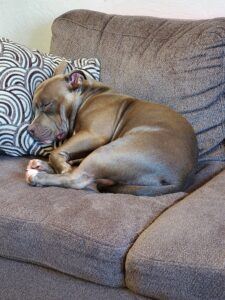 they actually are very tired and often don't want to eat.
I've seen dog depression a couple of times in my years of having dogs. In these couple of instances, there wasn't much I could do for one dog, unfortunately. Here's our story:
When I lived in Hawaii, I had a dog named Caine. He was a mix dog with several breeds. One day at the beach, there was a puppy that was running around looking scared and very hungry. She was very thin like she hadn't eaten in quite some time. I ended up giving her all the food that I had brought to the beach that day. She decided to adopt me after that.
I looked for her owners for about a month, but to no avail. I had assumed she was ditched, so decided to keep her. Caine and her became best friends in no time. She was a very, very smart dog. She could open doors, and cupboards. This was the unfortunate part, because she got into my aluminum pans in the cupboard.
She Passed After a Year.
Aluminum and dogs don't mix. I had no idea that she had gotten into the pans until about a week later. She was showing signs of lethargy and sickness for a few days. Under the impression that she had dehydration, since her symptoms were exactly the same as one of my cats that came down with dehydration, I made sure she drank and ate. Even though she didn't want to.
The night I came home to find blood in her stool, I knew something else was wrong. I called the vet and only the ER ones were open. In Hawaii, the ER vets were astronomical in price. And, I was very, very broke. So, I made the appt for the morning to bring her in and see what was wrong.
She passed that night. I woke up to find her in her favorite chair. Caine was sitting beside her, nosing her and whimpering. When I went to move him, he growled at me. I understood he was upset. Still needing to take care of her, I buried her in my backyard.
The Depression Hit Caine Hard.
After Sarah passed, Caine wasn't the same. He became very aggressive in nature. Anytime someone would come over and walk towards where she passed, he would run after them and try to bite them. Even trying to comfort him didn't work. I tried treats, comfort, soft praise. But, nothing.
He continued to lash out at people after her passing. I knew he was suffering from depression, but I didn't know enough back then on how to handle this. So, I found him a new home. I thought that being somewhere different from Sarah would help him.
Unfortunately, I heard that he had lashed out there as well. I thought it was just where Sarah had passed, but no. He ended up biting a child, and they had to put him down after that.
A very tragic end to that story. But, it shows that dogs can get depression, as much as we do. They simply will show it differently.
Not Every Dog is the Same.
Now, not all dogs are like Caine. First off, I didn't know enough about mental disorders in dogs to help him. I was very young, and simply had no idea how to handle this. Most dogs, when depressed, don't get aggressive. But some do. My other dogs after this, when depressed, usually want to sleep. A lot.
When a dog is depressed and they won't eat, don't discipline that behavior and don't try to force them. Find something instead that your dog loves. Whether it's a favorite toy, or place in the house. Try to get them to show interest in these areas instead. When they do, praise them a lot!
Compassion and understanding, will also help them. I believe in Caines situation, with what I've learned over the years, that had I blocked off Sarah's special place, that would have helped. I could have blocked that area until he had time to mourn.
Then, once he started showing signs of being out of depression, praised him for that. Lots of love, petting and comforting would have helped him. Don't give up on them. It still hurts me to this day that I gave up on him back when I was 18.
Another Disorder in Dogs is PTSD.
Post Traumatic Stress Disorder affects dogs and humans both. Any traumatizing event can cause a dog to get PTSD. Remember the stick? Or Sarah's death? The stick triggered the PTSD in the dog. Sarah passing on her favorite chair triggered Caine to suffer anyone going near her spot.
In the past, I've mentioned that dogs are similar in mentality to a child. A child around the age of two. If you are a jerk, and you hit your child over and over with an object, then that child is going to develop PTSD towards that item. Or, towards anger, period.
Dogs will develop PTSD in traumatizing situations as well. Any major event causing extreme stress, or pain can cause this to develop. The dog, after this event, will associate anything related to that event and, later, it will trigger it. It's hard to pinpoint any one trigger, because they can be so vast.
Watching and Learning from your Dog.
In order to know if your dog has PTSD, you simply need to observe them when something triggers it. For example, a lot of dogs hate their nails being cut. So many people cut dogs nails too short, and they suffer from the pain emensely. It would be the same as someone cutting down into the pink part of your nail bed. Ouch!
So, dogs will later associate nail trimmers with pain. I've seen some whine, whimper, and even run when nail trimmers are brought out. Or, if you even try to grab their paw.
Once you know the triggers of their PTSD, you can begin to help them through it. One thing I've learned, is you never force a dog into a situation they're afraid of. First, by doing this, you're teaching the dog that you're not there in their best interest. You're putting them in danger, and this is not the way to establish trust.
A Dog has to Trust You.
I'm going to use nail trimmers in this example, because most of my dogs are afraid of nail trimmers. And this isn't because I've ever cut too close. In fact, I haven't ever cut the wick of the dogs nail. It reminds me of a slow and painful torture to be honest. When in doubt, I simply trim a very small amount off the tip. Mainly when it comes to black nails because they're the hardest.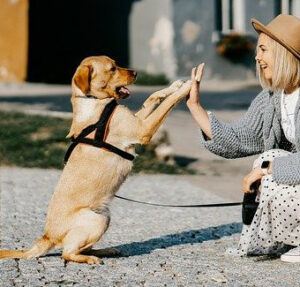 With dogs that are afraid of nail trimmers, they show fear immediately. Instead of grabbing their paw when the trimmers are in my hand, I let my dogs sniff the trimmers. Then, I praise them for their bravery. Let's face it, if someone cut into your nail with some clippers, you'd be afraid of them, too. If you have the balls to hold the torture object, good for you! You deserve some serious praise!
Dogs are no different. I'll do this until they no longer show fear towards the clippers. If this takes six months, so be it. They have to show they're no longer afraid of that object first. Then, I can move forward with the next steps. Holding their paw while I have the trimmers.
Lots and Lots of Praise!
Once they've overcome a portion of their fear, then you can move on to the next steps. As I mentioned, I'll hold their paw with the trimmers next to me. They've already shown they're not afraid of the trimmers anymore. And yes, this has taken me six months in the past to get to this point. That's okay. I want my babies to know that I'm not going to hurt them.
Then, once the paw comes into play, they're back to being scared. Again, praise, praise, praise. Treats will usually come into play somewhere in here as well. It might take another six months to get past this part as well.
Does this mean you don't trim their claws for a year? No. You still have to take care of this. In some instances, wherever you take them, they might hurt them again and set you back to the beginning. So, I advise you to find a place that actually cares about the dog!
With Atlas, she will now let me trim her claws. Yes, it's taken a very, very, very long time. And that's okay. She knows that it's not torture now when I trim her claws. She's still slightly hesitant and I'm very patient. So, I soothe her, give her treats and a serious amount of praise when we're done. She's almost two years old. That's how long it's taken me.
All it took for her, was probably one time! And two years of patience to help her through it.
Final Words on Mental Disorders in Dogs.
Hopefully you now understand more about the seriousness of mental disorders in dogs. Just because they can't talk in a language we understand, doesn't mean their feelings aren't hurt. The opposite is true. They have feelings and they can get hurt. This is often why I refer to my dogs as my babies. They're just like them when they were two years old. Misunderstanding things, getting into things, getting hurt during play time or on accident.
When it comes to depression, or anxiety or PTSD, I'm very, very patient. I help them to overcome these fears and phobias and show them that they can trust me. I'm not here to hurt them. It doesn't matter how big or small the fear is, it's serious because it traumatizes them.
If your dog is afraid of fireworks, try what I did with Annie. Help them to know that it's okay and you're there for them. Whatever you do, don't leave them at home alone to suffer. It would be like a fear of the dark. Someone leaves you alone in a dark room to fend for yourself. You would be traumatized after that, I guarantee.
Last, but not least, have patience with them. Help them through whatever is causing them distress. Figure out the stressor first, and work on overcoming that stress. But don't force them into the situation. Try to overcome it with time and with love.
What does your dog suffer from mentally? How have you been able to comfort them? Are you still struggling with mental disorders in your dogs today? Share your story so we can help!