Xylitol is Very Harmful for Dogs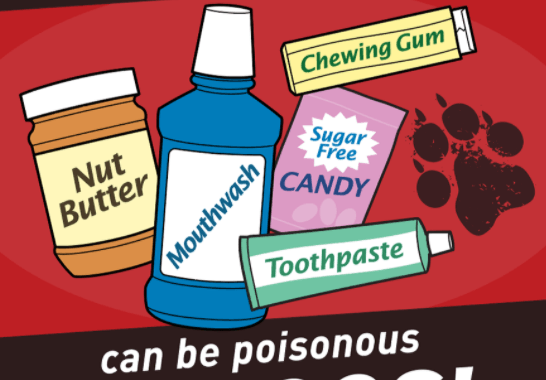 Xylitol is very harmful for dogs if ingested and it's in many of the products that we buy today.   I didn't know what this chemical was until just recently, since when I buy food for the house I'm always reading ingredients. My simple rule is, if I can't pronounce it, I can't digest it.
I recently published an article on common human foods that are harmful for your Bullies health.  What I didn't know at the time, is that Xylitol is one of the most harmful additives for dogs, period.
So, what is Xylitol anyway?
Xylitol?
I started looking into what Xylitol is, since as mentioned, I didn't know. Xylitol is a chemical compound that is odorless and colorless, but it's added in a lot of foods that we buy at the store. Since sugar is an expensive commodity, food manufacturers have been trying to find an inexpensive alternative to sweeten foods without extra calories.
Xylitol is actually a natural alcohol that's found in most fruits and vegetables, and scientists extract this to make a sugar substitute.
It's also manufactured to be used in a lot of medicines as well, maybe so they don't taste as bad. Although, if you ask me, most medicines don't taste very good period, regardless of the Xylitol they put in them.
For humans, the FDA has stated that Xylitol is safe for us in small quantities, but for dogs, it's extremely toxic, even in small doses.
Scrolling through Facebook last night, I saw an article about a dog that had gotten into some gum after a walk, and the dog ate half the container. They took the dog to the vet, but within an hour the dog had passed. With only gum being ingested, the small quantities of Xylitol had unfortunately, killed the dog.
The owner had tried stopping the dog, since this happened in front of them, but it was too late. The dog most likely thought the container was a toy, and started chewing it up.
Besides gum, what other foods is this chemical found in?
Common Foods Xylitol is Found In.
Xylitol can be found in a lot of foods that we buy at the store. Anything that's artificially sweetened can contain Xylitol as an ingredient. I know that it can be found in syrups – obviously, not the pure maple syrup – and even jellies or jams. But there're more foods than just a few mentioned.
Cookies,
Pudding
Ice Cream
Syrups
Gum
Chocolate
Pie Filling
Peanut Butters
Sugar Free Foods
Low Calorie Foods
Sweeteners
Condiments
Protein Powders and Bars
Meal Replacements
From the list above, you can see that this chemical is in a lot of foods that we buy. I stay away from anything Sugar-Free since I know that those foods contain the most chemicals. Low Fat foods are the same as well, in that they contain unnatural ingredients.
So, how do you shop around this?
How To Shop Around This.
Shopping around fake ingredients is pretty easy actually. One of the first things that I learned in Nutrition classes is to read the ingredient list on every packaged food you buy. Meaning, if you're buying Kraft Mac & Cheese, take a look at the ingredients before putting it in your cart.
If there are ingredients that you can't pronounce, then skip that food. Look for something that has a limited paragraph, instead of a long paragraph containing lots of long words.
Also, look for natural ingredients as the first words in the paragraph. If you see chemicals listed within the first 10 words, then it's not good. For you, or your dog.
Limiting what you bring into the house can save your dog if they accidentally get into something. My Bully, Atlas, is a very smart dog. I would imagine it would be easy for her to get into my food cupboard and eat something that she's not supposed to if I left for work everyday.
I can't limit all foods that are harmful for her, like onions and garlic since I eat these often. But I do keep them out of her reach so she can't accidentally get into them.
What happens if your dog does get into something that's potentially toxic to them?
What To Do If Your Dog Eats Xylitol?
This question needs a word of caution first. I say word of caution, because there's two things to note with this topic. Did you physically see your dog eat something? Or did you simply find the remnants.
Two very different things you'll need to explain to your vet. Either way, it warrants a phone call to your vet clinic, or an emergency clinic.
However, IF you saw your dog eating something, then the vet might recommend you force your dog to ingest hydrogen peroxide. Hydrogen will bubble in your dogs stomach and induce vomiting, possibly saving their life.
If you have dogs, always have hydrogen on hand in the event you need to induce vomiting.
Your vet will have different recommendations if you didn't physically see your dog eating something, but rather came home to find the evidence of it. Some things, your vet will be able to save your dogs life, but in some cases, they may not.
A phone call to the vet will determine what you need to do in both cases. Don't hesitate to call.
A Quick Story.
A quick story about dog's getting into things they shouldn't.
In Hawaii, I had a dog named Sarah that was very, very smart. She got into one of my lower cupboards and ate an aluminum pan, and I didn't know it. She had started acting very lethargic one day, and didn't want to walk anywhere.   Not knowing what happened, until several days passed and she still wasn't eating or drinking or walking around.   I was in the yard, picking up some debris that had blown into my yard, and I found the remnants of the aluminum pan, chewed up.
Taking her to the vet, the vet said it was already too late.  The aluminum was tearing up her intestines and she was dying. I made an appt to put her down the next day, as they vet recommended, but she passed that night at home. It was the most agonizing and painful thing to witness and to this day, I still think of her often, and the pain she went through.  This happened 20 years ago and it's still raw to think about.
In the End, Xylitol is Very Harmful For Dogs.
For your dogs safety, keep things out of reach that they can get into. I promise, it could save their life.
Even if they eat something so small as Chocolate, if you have a close relationship with your vet, they'll know what your dog can handle and can advise you via phone what should be done.
Keeping chemically enhanced foods up and out of reach is the start. Keeping aluminum out of reach is another thing I do, but I've had a personal nightmare experience with this, so to me, it's important.
At the end of the day, try not to bring Xylitol into the house. Xylitol is harmful for dogs, even in the smallest quantities.
For more on good foods for dogs, click here.