Why Are American Bullies So Expensive?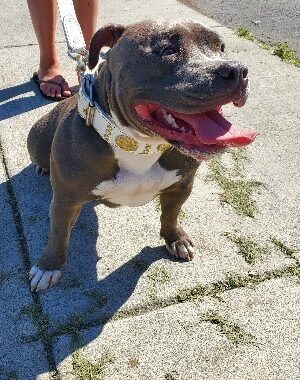 Atlas is going to be in her third heat cycle soon, and with that, she'll be ready to have puppies. Often, when I'm out and about, people always ask about her pups and buying one. As soon as they hear the price tag of $3,000, they ask, "Is there a discount?"  Why are American Bullies so expensive?
Several factors go into this answer on why this breed is so expensive. Specifically, the Pocket Bullies and even the Micro Bullies – but the micros are for another day.
The American Bully is a fairly new breed of dog.  They only coming around in the 1980's and finally being recognized in 2003. I wrote about their history here for you to read.
This breed is extremely smart, easy to train and very lovable and family oriented. A lot of pure breed dogs can be expensive, not just the American Bullies, but why?
High Demand Can Make American Bullies Expensive.
I'm going to refer specifically to the Pocket version of the American Bully in this portion. The Pocket version of the American Bullies are the smallest size recognized by the ABKC, so they tend to be in more high demand. People don't always have space for an extremely large dog like the Extreme XL's. They grow to epic sizes and can weight well over 150 lbs at full height.
The pockets however, are shorter in stature, though can still weigh a decent amount – Atlas weighs 60 lbs – but they don't take up as much space as the XL's. This is very appealing to people that don't have the space for very large dogs, but still want a dog that is loving and family oriented.
Since getting Atlas, I've had 5 strangers give me their numbers stating they want a phone call when she's having pups. Several friends want a pup as well, so her first litter is basically spoken for already. This causes a high demand for these pups, hence the price tag is high.
Cost of Raising.
All dogs can be costly to raise, but the Bully breeds can be expensive. Because they tend to have allergies, sensitive skin and stomachs and require special care and attention, the cost of raising is higher than, say a mixed breed. English Bulldogs also are very expensive because they often have breathing issues. Pugs have eye issues, and breeders often say to always have $3K in the bank for eye care.
All purebred dogs have their quirks and special needs. However, that doesn't deter people like myself that enjoy the breed so much, that we don't care about the special costs.
I have pet insurance on Atlas, because she has been to the vet a few times already, but for very minor issues. But because she means so much to the family, I take her care into special consideration.
Being Picky About the Studs.
This is a huge topic in our house right now. Atlas is due for her next heat cycle in just two months. We've been looking diligently online for a proper stud for her. We're mainly looking outside of Alaska, simply because there are a few Bully breeders in town and most have come from the same strain.
The last thing we want is for her to breed with a dog that's remotely related to her. The pups will have not only psychological issues, but physical deformities as well.
We've been looking at the Venom line out of Texas for her because they have some of the best Bullies we've seen. Many of their studs have won awards, have a great stance and are healthy dogs. However, looking outside of Alaska comes with a price tag.
American Bully Breeding Costs.
Being picky about who we breed Atlas with will come with a hefty price tag. The stud fees can range from an average of $3K to $5K. Paying this amount of money for her to get pregnant, means that we would need to sell the pups at a minimum of $3K each, to absorb those costs.
Most bully lovers know that this breed is expensive to buy. Not as expensive as some though. Recently, there was a Bully show in Alaska and there was a gal there selling her English Bulldog pup she had with her. I asked how much for that pup, and she stated $15K.
Some breeds are much more expensive than the Pocket Bullies at $3K for which we'll sell Atlas' pups. Anytime someone cringes and tries to throw out a $100 price, I simply let them know that the pound usually has rescues, since that is the cost from there.
Why The American Bully Breeds so Expensive.
Hopefully, I've answered the majority of this topic in this article, and now you understand why they can be so much more than adopting a dog from the shelter.
Now, I have adopted several pups from shelters and the humane society. Annie, who passed at 14 was from the pound. She was a mixed breed, which required a vet appt to determine exactly what she was mixed with. Adopting from the shelters is a gamble on what you'll get with the dog. While I do believe in adoptions to save pets lives, I also thoroughly enjoy having bought Atlas for the amount I paid.
Atlas is a one-of-a-kind dog that I treasure more than any other dog I've ever had.  It's hard to explain to anyone that balks at the cost of a puppy of hers, when they've never had this breed. Instead of trying to convince them, I often simply end the conversation with, "Clearly, she's not the right breed for you."
Regardless of anyone's hesitation, or incredulous at the cost of these dogs, you'll never know the value until you've brought one in to the family.  This is part of why the American Bully Breeds are so expensive.
She speaks to me when I ask her questions, she understands me when I need to give her her medications. The easiest to train breed I've ever had and the most human acting dog.
She requires her morning ritual which consists of telling her, "Good morning Atlas", every single morning. She also knows when it's dinner time and reminds me when I'm being negligent of the time frame.
While I love all dogs, the love I feel for her is immeasurable and worth everything I spent on her. She'll continue to be worth every vet bill in the future and the costs of breeding her to ensure I get a mini Atlas to myself.