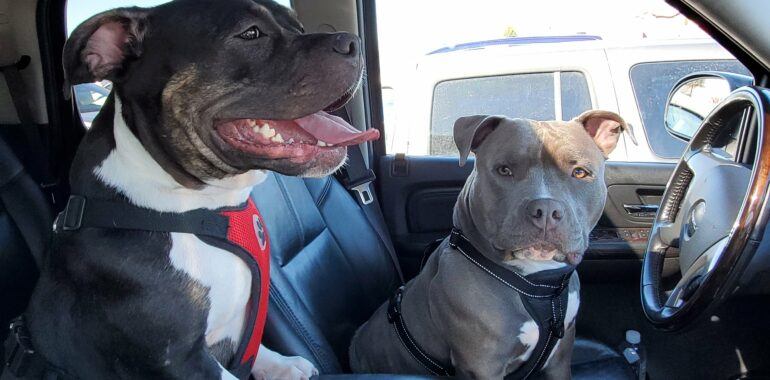 Recently, a new family member was added to our home. One of my acquaintances was in need of re-homing one of her dogs. The situation was becoming dire in the home and she didn't want her dog being hurt. So, we brought her into our home. But, sometimes, adopting an older dog requires special attention. Care, patience and consistency.
Everyone raises dogs differently. They use different commands for communication. Train differently on the things they want their dogs to achieve and do. My husband has always adopted puppies, and never a dog that's come to us already older. Don't get me wrong, she's still a pup. Only a year old, she's still learning. But there are some things that she's already been trained that is different from my dogs.
The Commands That Are Taught May Differ.
One thing I've learned over the years, is that everyone teaches their dogs slightly different commands. Sure, some are the same like Sit, Stay, Come and Down. But what about the all important one? Going potty outside? This is the one that can be a bit tricky when you have a larger dog and not a little puppy. Puppies you can just pick up and tote them outside. But the larger dogs? Yeah, good luck.
Thankfully, I was able to pick this dog up and tote her outside. But older dogs are harder to get them to understand what you're trying to ask. Puppies are easy to train to go out. They have to pee like every 20 minutes and they always have to poop after eating. I've also always kennel trained my dogs, so the puppies are kenneled at night and some during the days. With puppies, you take them to the same location every time and wait for them to pee or poop. Then, you give them lots of praise and use the command of your choice. "Good girl, you went potty outside!" Over and over and over.
But what about the older dog you've brought home?
If The Older Dog Has A Hard Time Going Outside.
So, my newest family member, Muse, is used to going on grass and snow. Since she's a year old, she's been going on the snow for the last 7 months. It's easy to get confused when you're in a new house, new people and new potty place. I have a setup on my deck for my dogs. First off, I live in a 2 story house. My bedroom is upstairs, along with my kitchen. I have a very, very large deck that my dogs love to go out on.
This last winter, I decided I didn't want a nasty deck in the spring like every year in the past. So, I bought some fake grass from Amazon and laid that out. I also bought a pet pen that I can change the shape of it. It wraps around the grass. Last, I have a dog door that sits next to the slider door. My dogs are trained to go outside whenever they need to and do their business on the fake grass.
Muse isn't used to this. For the first 2 days, I was having to pick her up and tote her outside. Unfortunately, she doesn't like to pee on anything other than snow.
I had to learn what she likes through trial and error.
Learning What The Dog Likes.
Adopting an older dog means you have to pay attention to what they like. It doesn't come with its problems, I promise. The other morning, I decided to try something when she didn't want to go on the grass with the other dogs. So, I brought her downstairs to the back yard to see something. Now, Muse is really timid. She doesn't like new places without me right next to her.
And, in case you're wondering why I don't just let my dogs out the back door, I have an un-fenced yard. It's a real pain in the butt when my dogs want to run through the bog I live on. Plus, there's high foot traffic back there, because we live on a trail that goes through the bog. I love my yard, don't get me wrong, but Atlas likes to run and say hi to people.
Anyway, I let Muse out there and right away, she went to the snow and peed. So, I learned she likes to go on the snow. I've taken her down there several times now, and she goes right away. It took me a few days to learn what she likes, but now that I know, I can get her used to my command, "Potty Outside".
Training The Dog To Learn Your Ways.
Just because dogs get older, doesn't mean they can't learn what you like. It's the opposite actually. Older dogs learn fairly quickly, but it takes patience. Adopting an older dog shouldn't be something you shy from. You just have to learn to adjust and help them along the way.
By me knowing that she prefers the snow and real grass, I can now teach her my command of potty outside. So, now when she goes, I praise her lots and repeat over and over, "Good girl, you went potty outside." By doing this, when she's on the deck, I can tell her to, "Go potty outside." Over time, she'll realize that the deck is set up for this purpose in their little area.
She still isn't used to the dog door, so for now, I have to leave the door open. But, I keep helping her through it and give her treats when she uses it.
Sometimes, the more timid dogs are weary of new things. Muse is definitely timid, but she's getting better with each passing day. I'm also teaching my husband to have patience and understanding, but he needs training too.
Teaching Family Members About Adopting An Older Dog.
My family is confused on how to treat not only our dogs that we have had, but Muse as well. My husband is under the impression that dogs don't fight. Well, they do. They're just like kids in that aspect. Atlas has never had to share her toys or anything else. She's having to learn that she needs to share now.
My kids don't understand that both Muse and Atlas get attention. They see the new dog, and they want to give her all the attention. Unfortunately, that will cause problems in the long run, and short term as well. So, I'm having to teach them that they have to give attention to both, equally. Not just one.
So, when the new dog wants attention and Atlas runs up for attention as well, they need to give it to the both of them. We can not favor one over the other. That will cause jealousy in the house and fights will break out.
They also don't understand that egging them on is a serious no-no. In the past, when Atlas would play with a toy, they would egg her on and say, "Atlas, get your toy!" Now, when one of them grabs a toy, they egg Atlas on like that. When Muse wants to play too, now they just fight over the toy. We've had to break up 3 fights from this already. Thankfully, they're not serious fights and no one's really hurt.
Giving Attention To Multiple Dogs.
I've been steadily training my family on how to treat multiple dogs in the house. Which, I'm surprised I have to do because we had a larger dog last year that passed, my Annie. Her and Atlas had their fights, especially over Annie's bed. Annie would attack Atlas if she tried to lay on Annie's bed. Huge no-no. I had to work with Atlas to teach her that that was not her bed.
When Annie wanted attention, I had to be sure that both were given the attention. Annie was quick to lash out at Atlas for anything. She was the top dog in her eyes. Now, Atlas is having to learn the pack rules with Muse. Muse is establishing with Atlas that she lives her now. She's clung to me as her Mom and follows me everywhere at my heels.
They both want to claim me as theirs by putting their whole body over me. Straining to get as close to my chest and face as possible. When they start to try to climb over each other to get closer to my face, I sit up and pet them both equally. This is telling them that I'm not being dominated, first off, and I'm Mom to them both. They're learning to lay next to each other at my feet instead.
Hopefully now you know more about adopting an older dog. They are such a treat to be around, and I love them both. Yes, it takes patience and understanding, but once they're trained, they're a part of the family! Just be sure you don't neglect your other dogs in the meantime. They love you too!