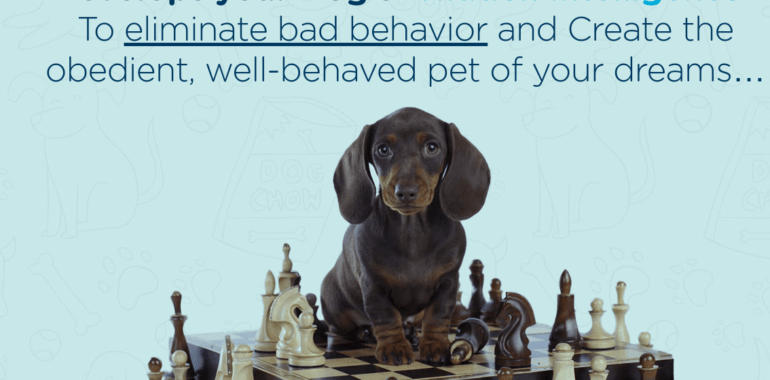 If you're reading this article, you might be wondering what brain training for Bullies even is. Brain training for dogs is actually not a new concept, but it has grown in popularity in recent years. Brain training is a way to keep your dogs busy with mind games. No, not mind games like the ones we encounter while dating. It's actually a way to keep their minds preoccupied with training exercises.
I'm sure you've seen those food bowls that are like puzzles for dogs. Many dog owners use these for various reasons.  Some dogs can't control their eating habits, so they eat too fast.  Other dogs aren't interested in some foods, so they like the "hunt" basically.
Kong toys are another type of brain training tool used for their dogs. They put treats in these Kongs for their dogs to attempt to get a hold of. Many reasons dog owners get certain items for their dogs as a way to train their brains. What is brain training for Bullies though?
[Affiliate Disclosure: This post may contain affiliate links which means I may earn a small commission if you purchase anything through one of the links. However, this will not affect what you pay!]
Adrienne is a dog trainer that uses a lot of methods to help train dogs. She helps with eliminating bad behaviors. Also, she helps in keeping dogs focused on you while you're training your Bully. See, what most people don't realize, is that when you start to train your dog, it's important that you keep their attention on you.
It's also important that your dog isn't super rambunctious during training. Adrienne helps with keeping your dog focused on the trainer, you.
She starts dogs off with different levels of training. By following a certain set of training techniques, she helps you start with the basics.
The Start Of The Program.
Adrienne starts dogs off with what she calls Preschool. Here she will go into the basics of the training program. Meaning, how to actually get your Bully to pay attention. Anyone that has trained dogs knows you have to have your dogs attention. Here's an example:
Atlas is over here playing with her toy right now. She's swinging this toy side to side with her head. Let's imagine I decided on a whim to train her to "Speak".  Clearly playing with her toy, so she isn't exactly in the right mindset to be trained right now. I would get frustrated and probably start raising my voice. A: This is not a good way to train Atlas. Instead she would think she's in trouble, not that I'm simply trying to teach her something. B: This is negative training and we don't want that. Positive training is the best way to train your dogs, especially Bullies. They tend to be very sensitive dogs.
Once she gets the basics down, then she moves into the rest of the schooling. Elementary, Middle School, High School, College, University, Graduation and finally Einstein.
By the time your Bully reaches the Einstein level, they're able to do very advanced commands. Stacking toys, grabbing items and so on. This level is for people that want to put their dogs in shows and have them perform exemplary tricks. Or, you just want your dog to be that awesome!
What This Brain Training Is Intended To Help With.
Brain training is supposed to help with dogs that have obedience issues. Dogs that need proper training and owners that need help. What does this mean? Okay, if you've read some of my previous articles, then you know that not all dogs are created equally. Some dogs are easier to train than others. I've had both.
Annie, a rescue, was a very difficult dog to train. Basic commands took her a very long time to understand. Not because I didn't know what I was doing, I do and I did. She eventually learned advanced commands like "Shake", " Spin", etc. But boy, it took her months to learn to sit. Whew, she was stubborn.
Now Atlas is different. Atlas is my Pocket Bully and she's super smart. She learned "Sit" within 5 minutes. Seriously. She knows all the basics, plus some advanced. Now, if I was a certified dog trainer like Adrienne, then I'm sure Atlas would be Einstein by now. However, I just learned of brain training recently, so I'm sharing it with you guys that might need better training for your Bullies.
Now the question of the day is, "Does her program really work?"
Does It Really Work?
Actually, according to some studies I did, yes. She's actually been featured in "USA Today and Every Dog Magazine". A lot of reviews have been published as well, giving exceptional credit to her program.
Okay, now that I've spouted that out – here's my take. Every dog needs to be kept busy. What does this mean? I love examples, you know I do! Here's another just for you:
My kids get bored. They're in home school right now and they hate it. My 11 year old is doing everything in her power to not go to school. Not exactly missing the zoom classes, but not doing her homework. Why? Because they're BORED! She's not being challenged. Her brain isn't being worked hard because they sit in front of a computer while a teacher drawls on about the lesson. They're not being challenged by other peers yelling out answers. Because of this, they're becoming what I call, "Brain dead." It's not for the lack of the schools attempts, they're trying. But they're limited. They can't send kids back to school yet because of the risks involved.
The Brain Needs Stimulation.
Because of the home schooling, my kids often will zone out.  So when I attempt to talk to them, I get this dead look from them. I'll ask something, anything, and I get the blank stare back. "Huh", is usually their response. There's no stimulation!!
Same for dogs. If you leave a dog cooped up in a kennel all day, come home after 9 hours, your dog will go crazy when they get let out. Do you honestly think while they're running back and forth that they're going to listen to any of this:
Stop!
Stay!
No!
Down!
Of course not. They're excited to get out of there! Too long cooped up. So, you have to let them expel energy first. We're not saying go running 10 miles with your dog. You can help them release energy through mental stimulation as well. But you have to get them to focus first. This training helps with all this.
Honestly, I think this program is worth the $47 it costs. Hands down, if I needed help with training my dogs, I'd pay that in a heart beat. I'm actually considering buying it just to advance train Atlas. I will admit, I've never trained a dog to stack toys. What a riot!
For the majority of dog owners out there, there are a lot that have unruly dogs. Pulling on leashes, barking all the time, not listening to basic commands. Heck, I have friends that have asked me how my dogs don't pull. Through proper training. Imagine this for a moment:
You're at a public place with your dog. Let's say, a park. There are a lot of kids and other dogs around (imagine we're not dealing with COVID, okay?). You get out of the vehicle and you forgot to put the leash on your dog. Your dog jumps out of the vehicle and you say, simply, "Sit." Your dog listens and sits. Once you get everything you need from your vehicle, you start walking towards the playground. Your dog follows right beside you and with a simple command of "Heel" they stay right by your knees.
No more yelling, running, chasing or high tempers. They simply listen to you. Wow. Would that make your life easier?
Hmm. Dogs that listen. Yes, they exist with the proper training. You can learn more here.