Dogs Nutrition Needs Have Evolved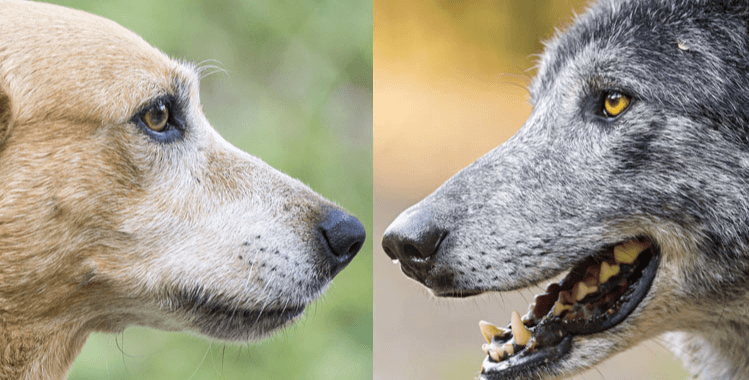 In a long series of articles related to dog food, I'm now onto the history of dogs.  In looking at numerous historical records, I have found that dogs nutrition needs have evolved.  Most people know that dogs came from wolves.  If you didn't know, you do now.
But dogs nutritional needs differ from wolves.  Wolves eat a diet mainly consisting of meat; raw meat at that.  However, when scientists started studying the dogs anatomy, they found that they have changed from wolves over time.
Dogs Anatomical Evolution.
When scientists look at the anatomical makeup of digestion, they turn to the digestive tract.  This starts in the mouth, to the esophagus, onto the stomach and finally the intestines.  The difference between wolves and dogs, though is how they break down foods.
Dogs, over the years of domestication, have evolved along with their human companions.  Dogs are actually now considered to be omnivores, and only partly carnivores.  Unlike their wolf counterparts that are strictly carnivores.  The difference?  Their dietetic needs.  Dogs have similar enzymes like humans, to be able to break down carbohydrates, amylase.  This enzyme starts in the saliva for humans and aids in the breakdown of carbohydrates into sugars.  Domestic dogs now secrete this hormone that other domestic animals do not.  This is what enables dogs to consume carbohydrates and break them down into energy.
However, some believe that dogs are incapable of digesting carbohydrates, and feed domestic dogs a diet similar to wolves.  Because of their evolution though, this may be detrimental to their overall health, long term.  Dogs have become domesticated over the years and thus have evolved over time.
Dogs Becoming Domestic.
This is the hazy part of this article. Some say dogs were first domesticated around 37 BC.  Virgil, a Roman poet mentioned dogs close to Mastiffs.  In his Bucolica, he referred to feeding dogs whey, which is similar to wheat.  After that, there were other accounts of dogs being fed by humans.  In 70 BC and on, according to "Dog Food'.
During these times, it was noted that dogs had started eating a diet that was given by humans.  Over time, this changed how a dog digests food versus their wolf ancestors.  Wolves intestines are longer than dogs, more suited to a raw meat diet.  Dogs however, have shorter intestinal tracts, resembling those that are better for the digestion of vegetation (Dog Food).
Dogs also have the enzymes that help aid in the digestion of certain foods, such as carbohydrates.  Ten genes, found in domesticated dogs that aid in the digestion of starches and fats.  Wolves do not have these same genes, according to the publishers of "The genomic signature of dog domestication reveals adaptation to a starch-rich diet."
A study was conducted on dogs throughout the world.  Starting with indigenous sled dogs and dogs from Europe and the Arctic.  These studies reflected that dogs, alongside man, have adopted to eating foods that we often ate, depending on the region.  In some regions, where different agriculture stemmed, the dogs ability to digest those foods were found prevalent.  This study linked dogs to evolving digesting agriculture privy to these regions, according to "Diet Adaptation in dog reflects spread of prehistoric agriculture."
What does all this mean?
What The Studies Conclude.
Based on the studies and the thorough research into this subject, it means that dogs can digest foods similar to humans.  Not all, mind you.  There is still a lot of evidence and studies that need to be done, according to the scientists in these articles.  However, it shows that dogs should have a diet that is balanced in meat, vegetation and other nutrients.
The mindset that dogs need a diet dedicated to protein, because of their wolf ancestors is incorrect.  Their intestines and organs capable of the digestion of their foods has evolved from that of wolves. Dogs should no longer get a diet higher in proteins, versus other foods.  Rather, they need a balanced diet much in the same as humans.
Some studies also reflect cats and their evolution, having lived beside humans for thousands of years.  Cats have not evolved the same as dogs, and still mimic those of their ancestors.  This means, a cats diet should still be high in proteins, much as their wild counterparts need according to, "Digestive enzymes in dogs' and cats."
Even with all this historical research, scientists are still unsure of the perfect diet for dogs'.
The Perfect Diet?
There is no conclusive evidence that shows what a dogs perfect diet is or should be.  Canine nutritionists can't seem to agree on the perfect balance of dog food, according to Eskew in Fat, Protein and Carb Levels in Dog Food.  All nutrition experts for canines often change what they feel a dog should eat.  Many dog food companies label their food products as, "Perfect, Balanced, or Nutritionally Complete."  But many scientists are still studying dogs evolution from wolves.  How they've adapted to our agriculturally rich diets like we have.
Since dogs have been eating our scraps since the time of domestication, it is unclear what has worked best for our canine companions.  Many believe a grain-free diet is the best.  However, this only works for dogs with either allergies, or sensitivities to grains.  Same with humans that are Glucose-Intolerant.
Other's believe that the Raw-Diet is the best for dogs.  Much as their wolf ancestors ate.  However, that would be similar to humans eating a Neanderthal diet.  One solely rich in meats and little, to no, grains.
The evidence is inconclusive, even with noting several reputable sources.  Many can agree that each individual dog owner should research what is best for their dogs.  If your dog exhibits allergies or sensitivities to specific ingredients, then refraining from feeding those will help.
But it is as I suspected.  Ensuring that you do what is best for your dog in the long run.
Final Words on Dogs Nutrition Needs Have Evolved.
This article, like many others, has become one of fascination.  Meaning, diving into the evolution of dogs and their nutritional needs has led me down a path of education.  While there are a lot of "good" dog foods out there, I will continue to feed my dogs the food that has worked best for them.
Like many people's animals, they adapt to what we feed them.  Most dogs, once adopted, are shifted in their diets based on what each individual person believes their dog should eat.  Same with cats. Hence why there are hundreds of dog foods out there to choose from.  If all dogs had a "perfect" a diet, there would be one brand of food to choose from.  Only one option.
We also wouldn't have several canine nutrition experts saying, "The best diet for a dog is….".  But alas, they all differ in opinion.  Each vet differs in opinion.  Often it'll change with signs or symptoms of agitation from the pet as well, "Oh, your dog is breaking out in hives? They must be allergic to….".  And so, the hunt continues for the best dog foods.
We do know now though, that dogs have indeed, evolved alongside their human companions.  From 37 BC to today, they have been given scraps from their humans since the dawn of domestication. Indeed, dogs nutrition needs have evolved.
A quick word of caution out there dog owners.  Apparently dog napping is on the rise.  Check out this article to learn more!
*References:
Virgil (6 December 2017). "Bucolica, Georgica, et Aeneis: accedunt clavis metrica, notulae Anglicae, et quaestiones". Hilliard, Gray, Little et Wilkins – via Google Books.
No Author, Cite Note -44, en.wikipedia.org, https://en.wikipedia.org/wiki/Dog_food, Dog Food.
Axelsson, E., Ratnakumar, A., Arendt, ML., Maqbool, K., Webster, M., Perloski, M., Liberg, O., Arnemo, J., Hedhammer, A., Lindblad-Toh, K. (2013), "The Genomic Signature of Dog Domestication Reveals Adaptation to a Starch-Rich Diet., Nature, Vol 395, Iss 7441, pp 360-364) https://ui.adsabs.harvard.edu/abs/2013Natur.495..360A/abstract
Arendt, M., Cairns, K., Ballard, J., Savolainen, P., Axelsson, E., (2016, Nov) Diet Adaptation in Dog Reflects Spread of Prehistoric Agriculture, 117(5) pp 301-306 in National Center for Biotechnology https://www.ncbi.nlm.nih.gov/pmc/articles/PMC5061917/
Broadfoot, P.J., DVM (2018, June), Digestive Enzymes in Dogs and Cats, in Innovative Veterinary Care, https://ivcjournal.com/digestive-enzymes-dogs'-cats/