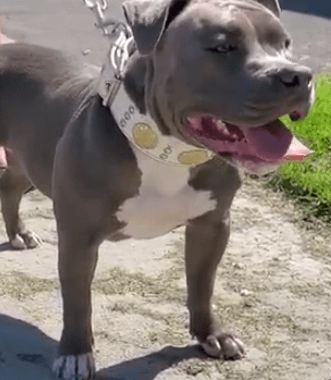 After months of research and thorough planning, I decided it was time for Atlas to get pregnant. I won't know if the AI was successful until at least 3 weeks. In 30 days, I can get an ultra sound. Seems a long time to wait. In the meantime, what are some signs your dog is pregnant? Well, I'll get into that in just a moment.
First, waiting 30 days for an ultra sound can seem like a long time. Especially if you decided to get your dog pregnant on purpose. There are some tell-tale signs in the meantime that your dog is, in fact, pregnant. Of course, this topic will help those that didn't decide it as well. Some dog owners simply find out down the road, oops, your female is pregnant.
Deciding To Have Puppies.
I didn't come to this decision lightly. I researched, educated myself and made sure it was a smart decision. This has been a decision that I made about a year ago in fact. I wanted to be sure that the Vet that sees her, also felt it was a good decision.
Not all dog owners, however, can make this decision. Some simply have a dog that is in heat, and she attracts every male in the neighborhood. I've even seen on some social media platforms where people are upset females are in heat. Not everyone is nice about it either. I've seen some go so far as to say the owners shouldn't have a dog if she isn't spayed. Though that's not terribly nice, nor is it realistic. Especially if you're a dog lover and have a dog.
To Spay Or Not To Spay?
If you adopt a dog from the shelter, then you know they come fixed. Why? Shelters don't want more dogs. They have enough. However, if ALL females were spayed, there would be no more dogs in the world. That's a sad day. Definitely not my mind-set. I love my dogs. Those that have dogs and love dogs should also be aware of this. If all dogs were fixed, there would be no more dogs.
A dog I had for 14 years from the shelter was fixed, she had to be. First, she was a mix of Mastiff, Dane and Boxer. She also was not smart. At all. Even if she wasn't fixed, I would never have let her have puppies. But not all mixes are fixed. In fact, many people that adopt from online sources that are re-homing a dog don't fix their dogs. Then, when they take them home and that dog goes into heat… Well, all the males around for miles travel. Just to have a chance with her. This is irresponsible dog ownership.
Because Atlas is a purebred dog, I want her to have puppies. I made a conscious decision to look for a good mate for her. One that would give her pups with the qualities I'm looking for. This is responsible dog breeding and ownership. Now what happens?
How To Know She's Pregnant.
It takes a while for your dog to show signs she's pregnant. Just like with humans. We don't know we're pregnant the moment we get pregnant. A missed period. Breast inflammation. Sickness. All these are signs that tell us, we should probably get a test.
Dogs are no different. So while I had her get her AI last night, it will take some time to know if it worked. In fact, it takes 22 days for the fetus to take shape for dogs. By day 28 to 30, you can take them to a vet. The Vet will do an ultra sound to see several important things. First, how many puppies are you expecting? How developed are the puppies? Are they developed enough like they should be? Lungs and brains are very important parts of development for puppies.
It seems like a long time, and yes, there are other signs that can tell you if you're expecting. What are some?
Signs Your Dog Is Pregnant.
Your dog will experience some different symptoms that will let you know she may be pregnant. She will start to have decreased energy for one. Let's face it, if a human had several babies growing inside her, she would be tired too. Heck, one baby and we're tired! Imagine more than that. Especially some dogs that have 13… Whew, I couldn't imagine!
Her nipples will start to enlarge and turn pinkish. Now, Atlas has been through what's called a faux pregnancy. All my friends were convinced she was pregnant in her first heat cycle. Well, let me tell you, she wasn't.  When you're with your dog 24 hours a day, 7 days a week; there's no way for them to get pregnant unless you watch it happen.  No dog mounted my dog in her first, nor her second heat. But her nipples and teets swelled up, huge! It happens.
She may also have morning sickness.  Yes, dogs get this too. They may vomit during the day, and that's natural. I mean, come on, babies growing inside? You can't help but feel sick with all the changes going on inside you. Poor women and what we go through.
Increased appetite.  This is a no-brainer.  No longer are they eating for one, they're eating for many.  You won't know how many until an ultra sound confirms it.  Or, you wake up to your dog having pups.  However, you decide to go about the pregnancy. Remember, they're not all planned.
Final Thoughts on Signs Your Dog is Pregnant.
Regardless of whether it's a planned pregnancy, or not, you need to know the signs. Why? Well, cause you're expecting, that's why. Things to prepare if it was planned. Even unplanned, you're going to have pups running around and you should be ready.
Since mine was planned, I already know that there's a lot to get ready. I have to build a ramp to my bed so that Atlas can easily get up and down from the bed. She jumps up and down now, but with a tummy full of babies, there's no way. She hates the steps I bought her, so a ramp will be better.
I'll need the kiddy pool that I bought just for Atlas to be ready. That's where I'm placing all the blankets and sheets for her to have her babies. I need another gate system so that they can be confined to a smaller area. Puppies can't open their eyes at first, and they usually can barely crawl. Keeping them in one safe place is crucial to prevent harm to them. So, a small pool that's 4 feet in diameter. Along with a fenced in area where they can't get out.
I also need to be ready for any complications. I have a Vet that I love and that loves Atlas. They need to know when she's expecting in case something goes wrong and we need a C-Section. Having the funds ready is a must in that event. It's expensive, but necessary.
So many things to plan and get ready in the event it was successful. This is responsible breeding and pet ownership. Planning and preparing for a successful litter of beautiful little Atlas'.