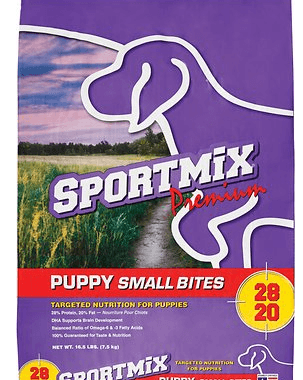 I've recently published several articles as of recently on dog foods that are good and bad for dogs. Making sure you know what ingredients are in them and that they're healthy. However, not all dog food companies can be aware of other toxins lurking in their food. Recently, Midwestern Pet Food, Inc issued a Sportmix pet food recall. This was issued on December 30, 2020.
According to the pet food company, some of their dog and cat foods may have contained Aflatoxin. This is a mold compound that grows on crops like grains and corn. This Sportmix pet food recall was issued for both dog, and cat food. They anticipated that the mold only affected certain products of theirs, which we'll dive into.
But first, what is Aflatoxin?
What Is Aflatoxin?
Aflatoxin, also known as Aspergillus Flavus and Aspergillus Parasiticus are carcinogens and mutagens. Both of these come from mold spores that can grow in the soil of plants. They're known to cause decay in vegetation, hay and grains.
According to Google, the definition of Aflatoxin is: any class of toxic compounds that are produced by certain molds found in food. They can cause liver damage and cancer.
Many of us know that mold is definitely not a good thing. Ingesting it can be even worse and in some cases, fatal. It's especially harmful to children and pets. Sportmix pet food didn't know the bags contained this carcinogen until reports started coming in. Many dogs had fallen ill eating their food.
At least with Sportmix pet food, it wasn't knowingly put in their food to be harmful. Unlike some companies that continue to put harmful chemicals in their foods. With this particular recall, I believe it was from mass production of rotten vegetation and the company didn't catch it before it was processed.
Though I do think that even with mass production, there should always be a spot checker to ensure the products going into the mix look okay. That's my opinion, however.
What does Aflatoxin do if ingested?
How Does Aflatoxin Affect Bodies?
Aflatoxin, being a mold, can be very harmful when ingested. The liver is the organ that cleans out any toxins in the blood. However, this toxin affects the liver by poisoning it. You can see signs and symptoms that include:
Sluggishness
Loss of Appetite
Vomiting
Jaundice, which is the yellowing of the eyes, gums or skin
And/or Diarrhea
Some pets will experience these symptoms, but others may not. If you purchased one of the recalled products – coming up next, schedule a visit with your Vet immediately.
So far, roughly 28 dogs have died and 8 have been seriously ill and needed care from eating these foods. Liver poisoning can also affect your pet down the road, so it's best to have the Vet run some health checks to be sure your dog/cat is okay.
What foods were possibly affected?
Which Sportmix Pet Foods Were Possibly Affected?
According to the company, they believe the following foods may have contained Aflatoxin. If the food you recently purchased is on this list, discontinue use immediately and return the product to the retailer you purchased it from.
The list of recalled products is as follows:
Sportmix Energy Plus, 50 lb. bag

Exp 03/02/22/05/L2
Exp 03/02/22/05/L3
Exp 03/03/22/05/L2
Sportmix Energy Plus, 44 lb. bag
Sportmix Premium High Energy, 50 lb. bag
Sportmix Premium High Energy, 44 lb. bag
Sportmix Original Cat, 31 lb. bag
Sportmix Original Cat, 15 lb. bag

Exp 03/03/22/05/L2
Exp 03/03/22/05/L3
In order to find whether your bag was recalled, look on the back of the bag. You'll see a code that is in the format, "EXP 03/03/22/L_/B__/HH:MM".
Be sure to check your pet food bags immediately so you know if yours was potentially affected.
If you have one of the recalled products, what should you do now?
What To Do If Your Bag Was A Recalled Bag.
I mentioned above that you'll need to return the product to the retailer you purchased it from. After that, schedule a Vet appointment immediately. In the meantime, clean out all the bowls the food may have touched. Since Aflatoxin is a mold, you'll want to use bleach to clean everything.
Bleach is the only product that is guaranteed to kill mold spores. So, all food bowls that contained the food should be cleaned with bleach. You'll also want to clean the water dish out thoroughly since it would have transferred to that. Any toys that may have been contaminated should be washed in the washer with bleach. If you can't wash them, soak them in diluted bleach water.
Normally, to make a dilution, you would want 1 capful of bleach for every gallon of water. Soak the toys and anything else that may be contaminated for at least 1 hour. Then dry well.
If you suspect any childrens toys to have come in contact, clean those the same.
Here's the thing, when our dogs are done eating, they like to drink water. They also like to play with their toys. The mold is easily spread from mouth to objects. Clean and disinfect everything that could have come in contact to be safe.
Final Words On Sportmix Pet Food.
I've seen a lot of pet food recalls, and I have to say, I'm glad they caught this one fairly quickly. Some pet foods don't catch a recall until several animals have fallen ill and passed. 28 isn't a good number, but I've seen somewhere hundreds of dogs have fallen ill.
Some pet companies don't even issue recalls. They simply continue to put harmful chemicals in their foods and sell them.
So, check your supply on Sportmix, be sure you don't have any that expire during the dates above. If you purchased yours online from Chewy, contact them for instructions on returning your product. They'll be sure to send the food back to the manufacturer.
Don't throw it away since it can be accessed if thrown in the dump. Especially by birds. Be sure to return it to the retailer.
*References:
No Author, (2020), FDA Alert: Certain Lots of Sportmix Pet Food Recalled for Potentially Fatal Levels of Aflatoxin, US Food & Drug Administration,
https://www.fda.gov/animal-veterinary/outbreaks-and-advisories/fda-alert-certain-lots-sportmix-pet-food-recalled-potentially-fatal-levels-aflatoxin#main-content