Choosing A Collar For Your Bully Breed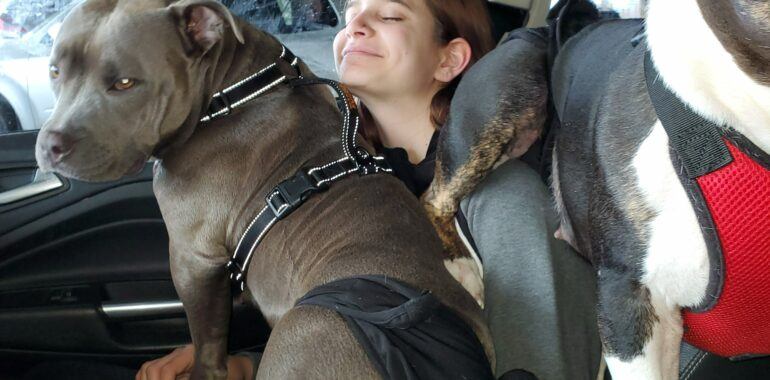 I've noticed a lot of other Bully owners commenting on Atlas' collar. They ask where I got it? How did I choose it? How much was it? Choosing a collar for your Bully breed isn't really that difficult. But there are some things you'll want to think about when choosing one.
For example: What is the purpose of the collar? This sounds like a dumb question, but it's not. Think about it. Is your Bully going to wear this collar all day? Is it for fashion purposes only? Are you using it to walk your Bully? Or will you be using a training collar?
So many reasons to think about how the collar will be used. From there, you can decipher which style to get.
Using it for Walking.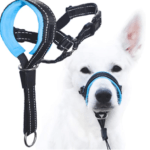 When choosing a collar for your Bully breed, are you using it to walk them? How are they on the leash? Trained? Or do they pull? If your Bully isn't leash trained, then a standard collar isn't going to train them. I would then recommend a training collar instead. There are several styles of training collars to choose from. My favorite is the Gentle Leader.
However, once your dog is leash trained and no longer pulls, then choosing a collar for your Bully breed is easier. I chose one for Atlas that was decorative, but thick as well. Since she is a Bully breed, I wanted something that wouldn't look dwarfed around her neck. I chose a 3-inch thick collar that is padded inside. Because of the girth of the collar, I wanted to be sure it wouldn't rub her neck wrong.
While she was leash training, she still wore her collar as well. The Gentle Leader has to have something it can attach to. So, she would still wear her collar during her training. Next, what about the material of the collar?
Choosing the Right Materials.
When choosing a collar for your Bully breed, you'll want to think about the material of the collar. Some might not think this is important, but it can be. First, does your dog have sensitivities to certain materials? Some Bully breeds have very sensitive skin. This means that some leather may give them a rash.
Also, what kind of climate do you live in? Will the material shrink over time if you live in a very humid climate? When I lived in Hawaii, leather didn't hold up so well over long periods of time. I found that my leather belts shrunk. Some grew mold. It varied based on the quality of the leather, but something to still think about.
Some dog products are made with all natural materials as well. I've seen some lately made with recycled cork products. If you're environmentally friendly, choosing recycled materials is a win-win. Also, if you're vegan, then you'll want to choose a natural, sustainable product as well.
Now that we've covered that, what about the style of the collar?
Choosing the Style of the Collar.
When choosing a collar for your Bully breed, the style matters as well. Thick, thin, adornments – these all have an impact on the overall look of the collar. Also, choosing very flashy collars that aren't very expensive won't hold up to the test of time. Face it, all dogs are rough with their collars. Regardless of when they wear it.
When you take them for walks, maybe they meet a dog and they start to play. All dogs love to grab onto collars during play time. So if there's a bunch of fancy little jewels, be prepared for those to pop off. Nothing is worse than having a really cute, fancy collar only to have it destroyed within a couple of weeks.
I've been there before. I've chosen really feminine collars with lots of fake jewels on them in the past. As soon as my dogs start to play, the jewels pop off and it looks like a dead bracelet. There went that $30 for the collar!
If your dog plays a lot with other dogs, find something that will hold up. If that means paying an extra bit upfront, so be it. You do get what you pay for.
What if they only wear it while out of the house temporarily?
Wearing the Collar for Outing Purposes Only.
My dogs don't wear their collars when they're inside the house. This hasn't always been the case. In fact, I used to keep my dogs collars on them at all times. Annie, who passed this last year never took her collar off. It wasn't until I got Atlas that I took the collars off inside.
When I bought Atlas' collar, I bought a pretty expensive one. It's thick, it is leather unfortunately (I recently went vegan) and it's pretty flashy. But I wanted something that was durable and well-made. So, I spent a bit on her collar. The thing with this one is, it's not really a wear all the time kind of collar. Only because it is thick. It's huge in fact! But, it looks good on her because of the size of her neck.
So, when we go out of the house at any time, I slip it on her. Since her head is the size of her neck, I don't have to undo it every time. If I did, then I guarantee, I wouldn't take it off. It's super thick material and not easy to get on and off. But as it stands, it's perfect for when we leave. Takes just a few seconds to slip it on her.
Finally, the harness.
They also have Harnesses.
Last, but not least, both of my dogs have harnesses. I know what you might be thinking, a bit excessive, right? Okay, I have collars, training collars and harnesses for my dogs. Each one serves a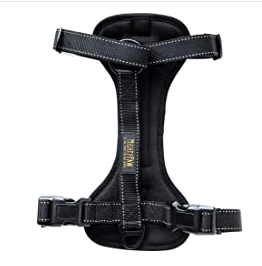 different purpose. The collar is for when we walk them. Neither of them needs the Gentle Leader anymore, they're both leash trained. Then, the harness is what attaches to the seat belts in the car. This is in the event something catastrophic happens, and they're strapped in.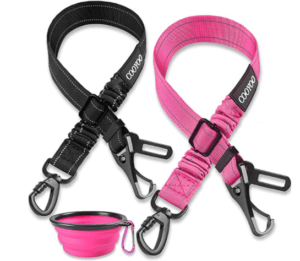 I don't always use the collars when they have their harnesses on. However, using a harness to walk a dog does not stop them from pulling. In fact, harnesses can have the opposite effect on dogs. To them, it means pull!
I'm going to stress this at the end of this article – a dog can not have a seat belt attached to a collar. You will literally break their neck in an accident. So, they have their harnesses that they wear in the car. Then, when it's time to go out of the car, I like the collar. It tells them to behave! Do not pull me.
I keep the Gentle Leader for the next dog that I will get down the road. All dogs need to be leash trained to not pull. So, there you have it. I have several styles, for different occasions.
How about you? What do you use for your dogs? What's your favorite and why?