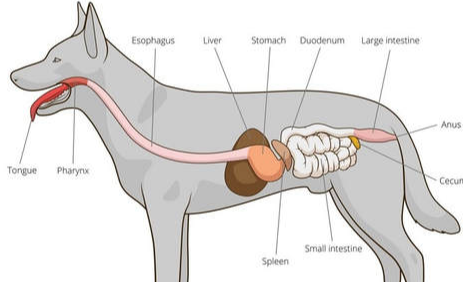 I've recently been asked about megaesphagus and what this is in dogs. Many have asked if their dog has this when they make choking sounds. Why have people asked me about this? Because one of my dogs has a tendency to sound like they're choking.
But no, my dogs do not have megaesophagus. So, what is it then? How do you know if your dog has this? Well, in short, only a Vet can determine this because it is a disorder. And, it happens in both dogs and cats actually. But, let's start by breaking down what this even is.
What is Megaesophagus?
Megaesophagus is exactly what the word sounds like. It's an enlarged esophagus in dogs or cats. The esophagus, which is the tube that runs from your mouth to your stomach can get enlarged. Your dog or cat can be born with this disorder. They can also develop it over time in their life.
When an animal has megaesophagus, their esophagus can get so inflamed that they collect food and water in their throat. When the esophagus is largely inflamed, then food and water can no longer travel to the stomach and it can get lodged in the throat.
This can have some serious consequences with your pet. First, they can vomit up the food or water that you're feeding them. If the dog or cat can't ingest the food, they can start to lose weight fast and become ill.
Food can also collect in their throat over time and start to decay. This can lead to serious infections over time. The water or food collecting in their throat can also get to their lungs. Water in the lungs can cause pneumonia. A very serious condition that has to be treated immediately. Food in the lungs can cause the lungs to be blocked and the dog or cat will stop being able to breath.
Some dogs are naturally prone to this disorder when they're born.
Dogs More Prone to Megaesophagus.
Most of us dog lovers know that some breeds are born with disorders. What do I mean by born with disorders? Well, let's take dogs with short muzzles for example like pugs. Pugs can have some serious breathing issues because of how their nose and muzzles are when they're born. They also tend to have eye issues as well. Many pug owners claim that you should have the money saved up in the event your pug needs surgery.
Other dogs, like some Bully breeds have skin and ear issues. And while we don't base our adoptions on these issues, we know they're potentially there. They're referred to as a congenital condition.
So, which breeds are more prone to megaesophagus?
German Shepherds
Golden Retrievers
Great Danes
Irish Setters
Labs
Miniature Schnauzers
Newfoundlands
And Shar-Pei's
It Can Also Be Developed Later – How?
While some breeds, as mentioned above can be born with this, some develop it over time. Dogs that ingest lead or thallium can also develop megaesophagus. Now, you might be asking what the heck is thallium? Well, it's a chemical element that can be found in food sources as well as some rodent poisons.
In case you're wondering, I had to look this up. I had no idea what thallium is or how my dog could ingest it. Well, it comes from the environment and some other human-caused sources. Volcanoes, for one, emit thallium during eruption. It's also emitted from coal burning plants. However, once this chemical is released into the environment, it can get in the soil. Unfortunately, from there, it gets in food sources.
Thallium is very toxic even in trace amounts. Unfortunately for humans and our pets, we don't really know if we're ingesting thallium. In dogs, they can exhibit signs of diarrhea and vomiting if they have thallium poisoning. Only a stool sample will be able determine if they have this I'm afraid.
Lead Poisoning.
Another cause of megaesophagus in animals is lead poisoning. Lead can come from multiple sources in homes or construction sites. Paints that contain lead are a threat if your animal ingests this. Some metal children's toys. Ceramic dog bowls. Water that may be contaminated, among other sources.
Lead poisoning in dogs is very dangerous. Some symptoms include: vomiting, diarrhea, muscle shakes, seizures, and shortness of breath. Basically, if you think your dog has ingested any of the above items, contact your vet immediately.
Lead poisoning, if left untreated can cause death in animals quickly. So, if your dog or cat get into anything that contains lead, contact an emergency vet clinic to help.
Now that we know about thallium and lead poisoning, how do you treat megaesophagus?
Treatment Options for your Pets.
Dogs or cats that have megaesophagus can still live just fine. The main thing is to be sure they're able to eat. Some animal owners have to elevate the dog bowls in order to help the dog swallow. Same for cats. Basically, if the dog or cat is sitting upright, then the food can go down the esophagus easier. There are special chairs that are made for the animals to allow them to sit upright while they eat.
Elevated bowls are another way to help the animal eat. If the dog has to eat with their head down to the ground, they'll have a harder time getting the food down. Basic gravity.
Also, making the food soft for them to swallow will make it easier as well. Some vets will recommend specific types of food for your pet in order for them to swallow easier. Soft foods, or foods that have been made into a pulp will make it easier. Some people have formed small meatballs with the food to also help their animals eat.
So, if your pet has megaesophagus, there're ways to make eating easier for them. Don't fret. It might take them some time to get used to certain things, like the chair. However, consistency is key to helping them through this.
Final Thoughts on Megaesophagus.
I have to admit, I didn't know what this was until someone asked me about it. And while it may seem like your dog has this, only a vet can make that determination. Examinations of the esophagus to see what's going on will allow them to treat it properly. In some cases, dogs or cats may need surgery. However, if you have pet insurance, then the costs are mostly covered. You don't have to break the bank to get your pet help.
It is a condition that definitely needs treating though. So don't hesitate if your dog is suddenly vomiting up their food consistently. Or, if they stop wanting to eat and drink. Simply contact your vet for an examination and explain the situation.
**I am not a licensed Veterinarian. This article is simply to help educate those that suspect their dog or cat might be inflicted with this disorder. If you have any concerns your pet might have megaesophagus, make an appointment.
Do you have an animal that has this disorder? What are some ways you help them live a healthy normal life? What kinds of tools do you use to help them eat and drink?