Stressing Over Another Dog Fight.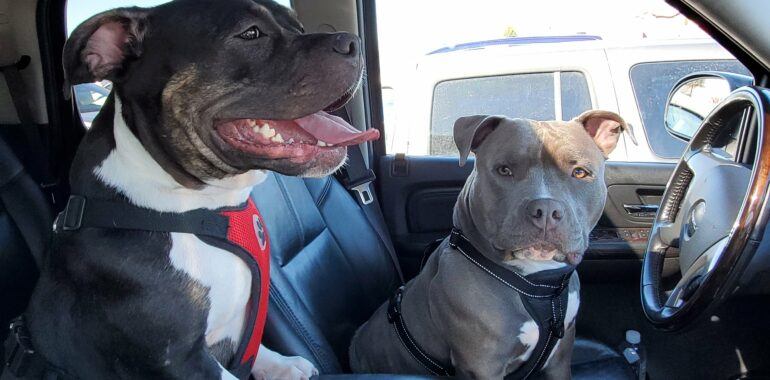 In the last week, my two female dogs have had two fights. Yesterday, one almost broke out again quickly, but it was stopped before it escalated. Now, as I sit here, I'm stressing over another dog fight starting. Why? Because I'm a stressed out person I suppose. I stress over money, over business, dogs, etc. The worst part? I'm not supposed to stress over it.
In fact, dogs can sense when our emotions are high, or elated. I know my dogs know I'm stressed. The problem? I don't know how to turn this off. Not stressing over another dog fight. Last night, my heart rate was very high just thinking on it. No, I'm not trying to think about it. My brain just has a mind of its own and stupid stuff pops up in there. I even tried to look online, "How do people not stress over another dog fight?" Know what I found? Nothing. Zip. Nada.
So, I tried every destressor that I could think of. A bath, smoking pot, watching a good show, and just trying to relax my body.
The Bath Helped a Little.
Since it's been rainy and kind of chilly in Anchorage, I decided to try to soothe my mind with a hot bath. This helped a little, but this was last night. I know, in my mind, that I have to find a way to stop worrying over the fights. Dogs are very sensitive when it comes to our emotions. In fact, more often than not, dogs fight because they sense their owner is in distress.
But knowing that I have to do this, and actually getting my nerves to calm are two totally different things. In the past, having a hot bath with a good book has always helped me. However, last night, even while reading, my mind kept wondering to last Monday. Last Monday, my dogs fought for well over twenty minutes. It was terrible to watch, and even more terrible trying to break them up while being alone.
In the end, I had to give up trying to break it up. I simply couldn't. And I think it's caused me to have PTSD because of it. The next thing I tried, smoking pot. Yes – it's legal up here.
I Tried Smoking Pot.
Pot is legal in Alaska, and has been for some time. While many might argue that smoking may cause me to lack judgment
if something happened, it helped to calm the nerves down. Again, this helped last night and has no effect on today. I still feel stressed over it and here I am, trying to tell myself to stay calm and not worry about it.
Smoking right now, is not at the top of my list either for methods to not feel stressed. Smoking first thing in the day, actually just causes me to lose all ambition over anything, for basically the whole day. In fact, after I smoke, I simply want to just chill on the couch and binge watch whatever show seems interesting at the time. Normally, some random Netflix show.
So, I'm back to where I was last night, in my attempts to calm my stupid nerves down and not dwell on the What Ifs of the day.
Watching a Good Show Helped just a Little.
Getting the mind to deter from its path is huge when it comes to stress. Many people will take up a hobby or something else to get their mind to stop dwelling. Last night, I tried getting into a new show on Amazon to help cool my nerves a bit. It only helped a little, before my brain started trying to remember the details of Monday. And that folks, is my dilemma right now.
See, when you face something traumatizing, the brain will actually pull images from that event and reflect on them. Why? I don't know, and I'm not a psychologist to be able to tell you why. What I do know, is that it keeps happening. My mind is constantly pulling images, flashbacks if you will, from the full on fight Monday. This causes my heart rate to accelerate, and then I start worrying over it happening again. I know not to do this. In every book, article, video, everything about dog training, this is a no-no. You never feel nervous or anxious because dogs will pick up on that.
So how can I stop this?
I read an article earlier today on the top ten rules of Buddha. Now, I don't practice Buddha, nor do I really know much about it. I do know that they try to live in harmony and peace. One of things I was learning today, is that I must accept the
stress in my life. I can't change it. Things that have happened, have happened. Accepting it though is the hard part.
How can I accept that my dogs did this? Maybe that's not the right way to phrase this question. How can I accept that they did this, and that they might fight again? I know I'm stressing over another dog fight and I accept that. However, how can I force my heart rate down, and my mind to be at ease? The rain today is helping some. Calming rain hitting the roof and skylights of my house. My dogs sleeping peacefully as I type away. Right now, this would be my calming zen. But how can I duplicate this, when they want play time? I know it can quickly turn, and I have to be diligent to stop any fights before they happen.
But how can you force your mind to not stress about it?
An Ongoing Dilemma – Not Stressing Over Another Dog Fight.
I don't have the answers. Why? Because I myself, am trying to figure this out as I go. I know dogs fight, I get that. Maybe it's the words from others saying that it will get worse. I'm hoping it doesn't, actually. Training my dogs is the top priority right now. To get them to stop whatever it is they're doing to focus solely on me. Maybe, this is the way to not stress? Knowing that my dogs are trained well, listen well, and on command, will turn their attention to just me.
I will note, training two dogs is not easy. Atlas has had some training, but she's far from stopping whatever it is she's doing to focus on me. Not because of the lack of training she's gotten from me. No, it's the lack of training she's getting from my family. Dogs love to go back to their natural habits when allowed. So, when my husband says, "Atlas, Come" and she doesn't, he just figures she doesn't want to. Well, that's not how you train a dog. You follow it up and make sure they actually listen.
Anyway, my path to not stressing is still ongoing. Baths, shows, pot, you name it, I tried it. How do you not stress? What do you do to calm your mind?