American Bully Breed Dogs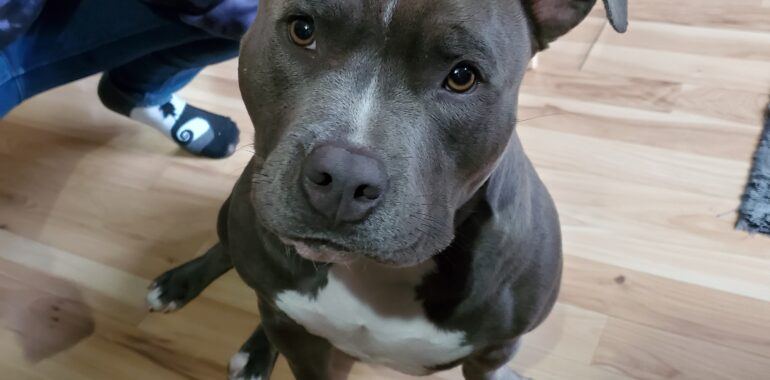 The American Bully breed dogs is one of the most confused breeds.  They are often mistaken as a very aggressive breed of dog.  However, having one of the smallest American Bully Breed Dogs, I can attest that this mistake is undeserved.  I've had quite a few different breeds of dogs in my life growing up.   But Atlas, my Pocket Bully, is one of the best dogs I've ever had in my life.
Before Atlas, I didn't know much about the Bully breeds.  Only what mainstream media would lead most people to believe. It wasn't until buying one into our family that I started to dig deeper into the breed to learn their characteristics.
American Bullies are often mistaken as an American Pit Bull Terrier or even an American Staffordshire.   One gentleman did the other day while I was in a store.   But this isn't accurate.   So, let's dive into more details about these dogs and why people often mistake them.
Where Do They Stem From Genetically?
There is a lot of controversy on where the American Bulldog comes from.   According to many sites today, the American Bully stems from the Pit Bull breeds along with the Staffordshire breeds. However, over time, the dog has been bred to remove the aggression from their temperaments.  This has to created a very loving, family oriented dog.
According to AKC – the American Bulldogs stem from the English Bulldogs.   They were brought over to America in the 1800's and were often referred to as Bulldogs because of the work they did.
Having an American Bully now, it's easy for people to often confuse them for a Pit Bull or the Staffordshire at first glance because of their stature.   But, I've actually had both breeds of dogs and I can honestly say that the American Bully is nothing like the American Pit Bull or the American Staffordshire.   So what are the differences that I've noticed?
American Pit Bulls and American Staffordshires Demeanor
The American Pit Bull Terrier that I had, Caine, while living in Hawaii was a very hyper dog.  He required extensive amounts of exercise and running.   He definitely needed a large yard to run in.   If he was confined to the house for longer than a couple of hours, he would become agitated and start acting out.   He was also more defensive in nature and very distrusting of anyone that we didn't know.   More difficult to train, I put him in classes to help me with training him the basic commands of Sit, Stay, Down, Come and Speak.
The American Staffordshire that I had was also extremely hyper and needed to run often.   She was different in demeanor versus Caine in that her hyperactivity wasn't defensive.  She was simply explosions of energy at times.  Sarah would often explode into a fast run, around the very small condo (only 600 sq ft) and would run circles around the place for hours after I was off work.   While I took her for daily walks, it wasn't enough for her athletic energy.
More on The American Staffordshire.
When Sarah was at her worst, meaning, too much energy not expunged, she would run circles around the condo and she would pee while running.   After this happened a second time, I paid a visit to the vet to see if something was physically wrong with her.  The Vet checked her out and had stated that she was in good health.   She mentioned that I should read up about the breed because they required extensive amounts of exercise and running.
Later, I did thorough searching on the internet as well as books and found that Staffordshires do require a great amount of daily exercise, similar to Labs.  Unfortunately, my job required that I work very long hours.  I  took her out before work, during lunch and after work.   It was not enough to appease her need to run.   Sarah went to a dear friend that had a very large property, 15 acres.  She ran her heart out at her new home.  This was after I realized my work life and my small condo could not accommodate the needs of the American Staffordshire Terrier.
The American Bully Demeanor.
After Sarah, I had vowed to never get another dog that needed a large property to run unless I had the space.  I would need to stick with dogs that were of a lazier nature.  Or, small enough that they had the space to run regardless of the size of my place.
Years later, I found Atlas.   She is a Pocket American Bully and is the most lovable dog, as well as quite lazy.   This breed, because of their short body style and very large muscular build, they are not a dog to run with.   Atlas can sprint extremely short distances, but tires easily.
Even taking her for walks, I can only make it .5 miles before she is ready to lay down and take a nap.   As a dog owner, I'm unaccustomed to having a dog that doesn't need to walk longer distances than .5 miles before being tired.   I have always had dogs that required lots of walking or running.    Annie, who was a Great Dane, Mastiff and Boxer mix, ran with me daily to get her exercise.   She recently passed due to old age and lived a great life of 14 years.
The American Bullies, in demeanor, are more closely related to the English Bulldog is overall stamina.   The American Pit Bull's and American Staffords are more hyper by nature.  But the American Bully, especially the Pockets, are very docile, very lazy and do not require a lot of exercise.
In fact – as I write this article, she's snoring beside me after sleeping all night long.
Caring for the American Bully Breed Dogs
Not requiring very long walks or runs, like many of the dogs I've had in the past, they are very easy to care for.   They love food – all food – and are easily trained with treats.   They are extremely smart dogs and will often exhibit very human-like emotions.    Meaning, they need lots of attention and love as well as constant verbal praise.    This dog is also the only dog I've ever had that actually watches TV.   In the middle of giving her love will turn away from me to see what's on the TV that's grabbing her attention.
She also can be vindictive at times when she's left alone too long or feels neglected.   Only in this regard do they require extra attention and some people may find they can be a difficult breed because of this.  However, because I know when Atlas is upset, I avoid the situations that had made her upset in the past.   Such as leaving her alone for long periods while running errands.   Now, I just take her along with me and she's fine with that.
Final Thoughts on the American Bully Breed Dogs
The American Bully breed dogs are one of the best dogs I've had the pleasure of raising. Her smart, loving nature is admirable and there is never a dull moment having her in my life. She watches over the entire family – watching over the kids as they play in the street to ensure they are safe and okay.
In times of uncertainty, camping in Alaska, if she senses danger, she will sleep by the door.   This is to make sure the family is okay in the event someone tries to get into the RV.
Walking her around stores, she is happy and engaging with everyone we say "Hi" to, and will often look them in the eye first and sniff their feet after. All dogs I've ever had sniff first and don't bother looking people in their eyes. This is definitely not a trait I've ever seen in a dog.
Constant cuddles are a daily thing and sporadic, forced affection when she's needing extra attention. These dogs are very communicative with their owners.   They will make every attempt to let you know exactly what they need.  Often, when hungry, she will push her bowl to my feet to let me know she wants to be fed. If she wants that love, she will jump up on the couch and rub her nose in my face and lay right on my chest to tell me she wants to be pet.
The Pocket Bully shouldn't be confused with being a small dog either, they are short in stature, but extremely heavy for their size because of their muscle mass. Laying on my chest is very painful, so attention is definitely given!