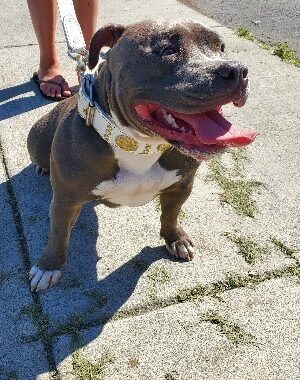 I was scrolling through Facebook yesterday and I came across a meme. There was a dog in the picture with a tear running down their face. The meme was labeled, "If dogs feel emotions, leave some love." Seeing this, I kind of laughed internally. I didn't laugh at the fact that dogs feel emotions, I laughed because there was a meme even created saying this.
Can dogs feel emotions? Yes. Absolutely, 100%, yes. If you don't have a dog, then you might be confused on this article at all. However, if you have a dog, then you'll be able to relate.
You get home from work – your dog wags their tail.
Or, you feel sad or depressed – your dog comes to you and puts their face against yours.
How about if you feel sick or are vomiting?   Your dog comes into the bathroom and sits next to you.
Maybe you accidentally do something that hurts your dog – they whine and cry.
What if you pull out a treat for your dog – they start paw dancing, wagging and panting.
You're in danger, or there's another dog nearby – your dog drops their head and their hackles raise.
Each of these examples are emotions and feelings your dog is exhibiting. They're showing you their emotions through body language. Just because a dog doesn't speak English, doesn't mean they don't have feelings. They still talk, but we can't understand barking as a language. Let's go deeper.
When Dogs Wag Their Tails.
In the example above, I mentioned that when you get home from work, your dog wags their tail. They show other emotions and feelings besides just this.  Sometimes, they might dance excitedly on their paws. They could jump around the room, or run around the house. Maybe they grab their favorite toy and bring it to you.
All of this is how they communicate with us. Tail wagging and paw dancing are excited emotions. They're happy you're home and they're happy to see you. Grabbing their favorite toy is a sign of sharing with you. They want you to feel happy like they do, and so they want to share with you.
Dancing excitedly is showing you they're genuinely happy that you're home. They missed you, and want to be with you. They're showing that by giving immediate love and attention to you.
Dogs feel happy to see you when they've missed you all day, or maybe it's only been minutes. I know that I can walk down to my garage and rummage to find something. In the 20 minutes I'm down there, my dog Atlas is super happy to see me come back upstairs. She shows me this by wagging her tail and dancing on her paws. Panting and smiling; happy to see me.
When Dogs Are Concerned.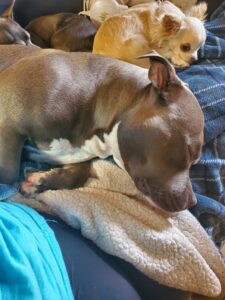 I'm sure there's been moments in your life when you've been sick at the toilet. Maybe you're laid up on the couch, not feeling well. Dogs feel this and they get concerned for your well-being. During times that I've been sick at the toilet, my dogs will come into the bathroom and sit next to me. They will sometimes lay next to me, depending on how sick I feel. My dogs have even laid their head in my lap when I'm really, really sick.
They show concern for us when we're ill, sad, or even depressed.
If you've cried or felt sad, I'm sure your dog has come to you and placed their nose close to your face. Maybe they lay next to you and simply touch you. Dogs not only sense emotions from us, but they also show their feelings to you as well.
Dogs can show concern in many ways. They might get close to you, or put their heads to yours. Some cats even do this. They might lick gently, to show concern if you're ill or sad. They might simply lay close to you, especially when you're sad or depressed.
Usually, their concern will come across as a subtle emotion. Ears in a relaxed manner, tails almost droopy, and their head might be lowered slightly. They won't seem as perky as they normally are, but calm, relaxed.
They Feel Pain and Sadness.
Not long ago, I was trying to get back into my truck quickly and Atlas loves taking my spot when I get out. I was sitting in the passenger seat, and was trying very quickly to get back into the truck. I gently pushed Atlas over to the middle console and I thought she had moved enough for me to get in and shut the door. Unexpectedly, she started crying and whimpering. I wasn't sure what happened, so I opened the door quickly. Her tail wasn't completely out of the way of the door, and some of her fur had gotten stuck.
Thankfully, her tail wasn't shut in the door, but she was crying nonetheless, because she was hurt. She knew that I had something to do with it, and looked back at me scared. I tried to soothe her and comfort her, but she was still wary of what had happened and regarded me sideways.
After several minutes passed of me comforting her, she finally crawled back onto my lap and licked my face. She was letting me know she was okay, but she had been hurt.
Dogs will let you know when they feel hurt and they will show sadness because of it. When a dog tucks their tail between their legs, they're either scared, or sad. When their ears are droopy, it's the same emotions they're feeling.
I always make sure that her tail is completely clear of the door now, but that brought me extreme sadness that I had hurt her, even on accident. She forgave me, as dogs always do, because they love completely, but she had let me know her sadness in that moment.
Dogs Can Feel Fear Too.
I have a very protective dog, Atlas. There was a moment during a camping trip that she showed not just fear, but anger as well. Maybe anger isn't the best emotion exactly, but she displayed feelings that I've never seen from her. A vehicle pulled up not far from our RV at 1:00am. My kids were asleep on their bed, and my husband and I were laying in bed in the room.
At seeing headlights coming down this dark road, not far from the street, Atlas became very alert and protective. She jumped down from the bed and stood in front of the RV door, nose in the air. She Sniffing to sense who had pulled up.   After this, she caught something she didn't like, and she started exhibiting signs of fear and almost anger.
Her head dropped low, her legs spread out in a stance I had never seen. Her hackles raised all down her back, and her ears lay flat. She started growling insistently at the door.
My husband looked out the window, and she jumped up in front of him, on the chair and pushed him back from the window. I had never seen Atlas act like this before.
My husband looked down at her and pet her, but then went to the kitchen window instead to look out. Atlas jumped down from the chair, and stood in front of his legs, between the door and the window almost. It was as if she was warning him, but protecting him at the same time.
My husband grabbed our pistol we keep with us, opened the door to the RV, but kept the screen door closed and sat on the steps to see what was going to happen. Atlas didn't move from his side the entire time. She was showing him that she was afraid for him, the kids and me.
Yes, Dogs Feel Emotions.
If you haven't figured it out by now, after reading everything above, dogs do feel emotions. They might not be able to look at you and speak in clear English, "Dad, I'm happy right now", but they say it with their body language. They wag tails, they dance, they smile, they cry, they show all these emotions to us every day. So to see a meme that even had to say, "Show love if you think dogs have feelings", shouldn't even exist.
As a dog owner, each of my dogs has different personalities. While they're all three different, they all have feelings. Each of them show me how they feel through body language. They display feelings so well, that I always know exactly how they're feeling each minute of the day.
If you have pets, then your pets have shown you their feelings somehow. Unless you have insects or reptiles. I've had reptiles, and they don't show emotions like dogs and cats. Other animals are difficult to read as well, like hamsters and mice. They just run on their wheels; that's about it.
My dogs though, they are very communicable when it comes to how they feel. They also don't hold back from exhibiting these emotions either.
The gist of this article; pay attention to your dogs. They have feelings too.