Dry Dog Food Storage Container – Review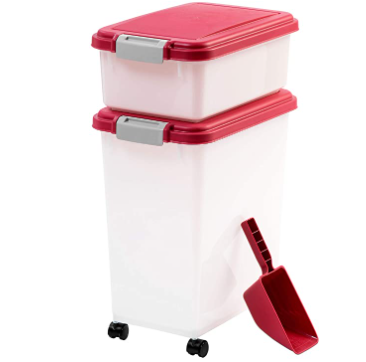 Having a good dry dog food storage container is a must when you have multiple dogs. Well, a must when you have a dog period! Right? I'm probably not the first to search for the perfect one either. It actually took me a few days to find the right one. Not only from a size aspect, but also a review aspect.
When it comes to buying products online, I'm a researcher. I like to know what everyone else is saying about a product they've ordered. Why? I don't like to waste my money, first off. Second, does the dry dog food storage container do what it's supposed to do? Meaning, keep the food fresh for my dogs? Roll easily? Hold a decent amount of food? Fit easily into my kitchen space?
Does this Dry Dog Food Container keep the Food Fresh?
I ordered this dry dog food storage container on Amazon almost a year ago now. That's plenty long for me to give it an honest review. So, does it? Yes. It actually keeps the food fresh, as far as I know anyway. I say it this way, because I'm not actually eating the food. It's hard to tell you whether it tastes the same out of the bag versus out of the container a month later.
Now, if I base it on how my dogs are when they eat, well, they still love their food. Mind you, they love it fresh from the bag more so. But I'm going to assume it's because it's literally as fresh as it can be. I'd take a guess that it's the same as opening a fresh bag of beef jerky, versus ziplocking it and trying it again after 2 weeks. However, even after the food has been in there for over 3 weeks, they still get excited for dinner time. So, it must stay fresh or they would snub their noses at it.
Does the Container Roll Easily?
I will say, this dry dog food storage container is awesome. It has four wheels that allow it to roll out from beside the fridge very easily. No matter how much dog food I put in there, it rolls as if it's empty. I do want to point out, you can feel the weight of the full bag of food in it. But this does not cause the wheels to function any differently.
It's a win for me since I do have a back that likes to give me issues. I used to have to drag that big bag of dog food out from beside the fridge twice a day. Now, I simply roll this bad boy out, and voila, done!
I also like that it comes with the scooper as well. Usually, one full scoop per large dog in their bowls. 1/4 scoop for the smallest dog, and slightly more for Harry. He needs a little more, otherwise he'll run to Buttons' bowl and help himself with hers.
Does it hold a Good Amount of Dog Food?
As I mentioned in the video, this dry dog food storage container holds one of the large bags of dog food. I usually buy 2, 20 lbs bags and throw them in there. Well, I go back and forth actually. I used to buy 2 individual bags of dog food. Only because, with the Wellness RawRev small breed dogs, they only sell them in 20 lb bags.
So, the last couple of times I've gone to Petco or Pet Smart, I bought one of the small breeds bags and one of the healthy digestion large breed bags. This container held both, so technically, it held 65 lbs. But that was full! To the top, hard to close full. So, I like to stick with the 50 lbs of dog food at once.
The last trip, since I bought the large 45 lbs, and the 20 lbs, I dumped in all of the 45 lbs. Then, I mixed in the 20 lbs small breed with it. As I got farther and farther down, I continued to mix in the small breed bag. Since my dogs love the small breed Wellness, I still buy it. Plus, my small dogs can chew this one easier.  They just pick around theirs and the bigger dogs clean the bowls later in the night.  

Does it Fit Easily in my Kitchen Space?
In the video, I mentioned that this container looks to be about 8 inches wide. I went ahead and signed onto my Amazon account and looked at my Buy Again list. It's actually almost 11 inches wide. 10.83″ to be exact. My fridge is set between a wall and there's a little space in there that I measured for. When I was searching on Amazon originally, I saw this one and thought, perfect!
So, when it came in the mail, I was very pleased that it fit perfectly in that space that usually never gets used. Since I don't have a walk-in pantry, I needed to keep my dogs food somewhere without it just sitting on the floor. It used to sit in that space between the wall and fridge, and it was kind of a pain to get that out everyday. I wanted something that was inexpensive, but had great ratings. And, this is the one that I had found!
Final Words on Dry Dog Food Storage Container.
Many of you might be thinking, "This isn't my cup of tea." And that's okay. I've used several types of dry dog food storage containers in the past. I even have the ones that are stack-able. The problem with those? I don't like the small lift lid in the front.
Whenever I would go to dump the big bag of dog food in there, it was problematic. First off, my dogs food bags are usually very heavy. Even having my husband dump it for me would usually result in some dog food being spilled out onto the floor. Also, we have them sitting on a shelf, and when you have dog food in the top one, it was hard to scoop out.  I'm a short person, I need something closer to the floor.
Also, I wanted something that was more accessible for me. Easier to pick that heavy bag up and dump it in. Not only that, I wanted something that would lift easily so I could manage to get the whole bag dumped in there. This is the one that fits all that and more! Plus, it actually has a rubber seal so it keeps the food fresh. The stack-able one doesn't. It's just like your basic storage tote. A plastic lid on a plastic container.
So, save yourself the searching and get this one for only $24.99 from Amazon. You'll love it as much as I do!