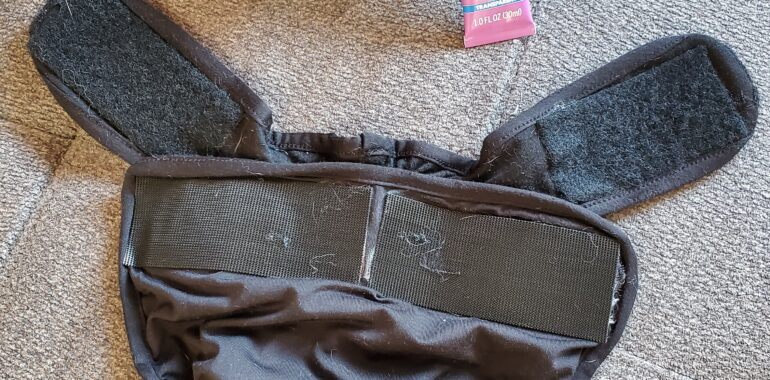 Okay, so I finally have the dog diapers figured out! If you're new to my site, then here's a quick rundown. At Petco, I purchased their So Phresh Dog Diapers about 1.5 years ago when Atlas first went into heat. The diapers come 2 to a pack and they're $29.99. However, after 2 heat cycles, the Velcro stopped working. *Grr*
Well, it didn't stop working, but it sure didn't hold anymore. The problem with this? Bigger dogs bleed a lot when they're in heat. No one wants bright red spots all over their floors or furniture. Now, I knew that the Velcro was going out about a year ago. So, I tried coming up with some solutions over the last year.
I Ordered Some Online.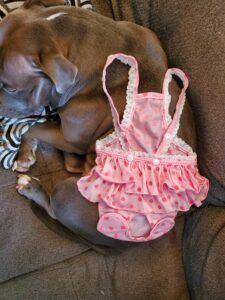 About 8 months ago, I started poking around online for other dog diapers. Knowing that I didn't have my dog diapers figured out yet, I needed new ones. Ali Express seemed like a good solution to try out different kinds for cheap. The problem with Ali? They're small!
Now, I don't know why I thought dog diapers would be different from Ali. I guess I just thought that maybe they would fit Atlas. Needless to say, I ordered several kinds and several sizes. From XS (for Buttons) to XXL. Well, they were all small. The small size fit Buttons just fine; who is actually a size XS. But, from Ali, she's a small. Go figure.
All the others? Tiny! I was very distraught. But, at least I wasn't out of a lot of money. These things were only like $3 a piece. No biggie. The next step? Try snap-on buttons!
Tried Sewing on Snap Buttons.
At my wits end with the Velcro, and then the Ali diapers, I tried the sew-on snap buttons. I ordered a couple of packs from Amazon thinking, this has to work! Here's the dilemma in my life though. I don't have a sewing machine. And, I'm not a good seamstress anyways, even when I had a machine. I even tried one of those hand held ones that you can get from JoAnn's. Yeah, no. Save your money, they're terrible!
With dog diapers though, there are two flaps on each side of the diaper. You insert their tail into the hole first, then I kind of do this straddle thing over my dog. Then, I reach under, grab one flap and secure it, then I grab the other flap and secure that one. Done.
So, what happened with the snaps?
Sewing on Snaps.
To sew on the snap buttons, I had to remove the Velcro first. So, I did. Much to my eyes pain, since one of the plastic loops popped up right into my eye! Ow! I got it out thankfully, but it was huge and painful and plastic. I wore sunglasses after this since I don't have safety glasses. Okay. 2 flaps, and two snaps per flap. I didn't think this through well, since that was 16 snaps to sew on! Which are tiny! It was awful.
Basically, it was a good idea, until the snaps didn't hold. I didn't sew them in the right places, because they're so small, and they just didn't work. We'll leave it at that. And, it took me like 2 hours to sew these tiny, stupid things on. Terrible idea, don't do what I did!
Next option – what about the disposable diapers?
What About the Disposable Kind?
In shopping at Petco, yes, I broke down and bought 2 more packages of diapers! Doh! But, while there, I decided to look at the disposable diapers. The thing is, with the So Phresh, you can pull them out and try them on your dog. If they fit, great! Get them. The disposable kind? They're in like a diaper pack. I wasn't sure if I could just bust that open and try a diaper on my dog! Sure, I could've asked, but I felt like I was shopping for my children again. Ugh, diapers.
Not only that, but my dogs go in and out. In and out. Okay, again, in and out. The disposable diapers, I'm pretty sure, are a one-time wear only diaper. Like a kids diaper, right? Once you unsecure that diaper, it's not going back on!
Not only that, but I have 2 different sized dogs now. Atlas has a big ol' butt and Muse, a tiny little butt. I wasn't sure which would fit whom, and whether it would be worth it. I mean, as it stands, I change out the disposable pads in their diapers now 2 – 3x a day. I'm not buying 100 diapers to last a month. I'm good. It would be like having a baby around again. Grandkids? Give them back? Diaper days, nope, I'll wait! When they're potty trained, bring em' over!
I needed a better solution. Seriously.
Finally, – I Got Dog Diapers Figured Out!
My husband and I are at Fred Meyers, also known as Kroger, the other day. We're walking around just poking at things, and I mention, "I wonder if they have good glue here." Naturally, he asked why? I told him I wanted to try to glue Velcro to the dog's diapers and see if that works.
Of course, he asks why I don't just sew on Velcro. But he doesn't know that I HATE sewing! And frankly. I'm not good at it. Then, I see Loctite Glue. For fabric! Yes! Their stuff is the best! So, I grab a tube. Then, he asks why I don't just get the industrial grade Velcro. Um, I don't know what that is!
He starts looking around the isles, and he sees it, grabs it and hands it to me. I tried telling him that I thought I had Velcro somewhere in the black hole I call my garage, but he said just get this one. So, I did. I'll try anything at this point, I mean, it's been a year!
The Glue and Velcro Worked! Finally, – Dog Diapers Figured Out!
That night, when we got home, I pulled out my goodies. I was ready to see if this was the solution. Sitting down, with my little table I type away on, I grabbed one of the crappy, lame, dog diapers. Grabbing the Velcro I bought and the super, duper loctite glue, I sit down to work. Now, this time, I didn't cut the Velcro off. Honestly, I didn't want my hubby to see me put on sunglasses at night and ask what the heck are you doing babe? Um, I don't want little plastic thingy's in my eyes again!
Nope. Instead, I put the Velcro over the existing junk Velcro and cut the approximate size piece that looked like it would fit. Now this Velcro is magical! It has super tape on one side! What? I still poured enough glue to hold a brick against a wall, but better safe than sorry, right? Then, I placed the strips over the crappy stuff and left it to dry overnight. Okay, we shall see the next day.
Well, Loctite, you don't disappoint. Mighty industrial Velcro, you're spot on too! Here we are, 2 weeks into this magical remedy only my guy could come up with, and they're holding! It's a miracle! They hold!!
I just can't express how happy I am with these. AND, they only take about 5 minutes per diaper. My lazy bum has accomplished 2 so far. But, Atlas is out of heat and only Muse is left. So, I'll get to the others soon enough.
So, the So Phresh diapers, with the industrial Velcro and the Loctite magic combined, I'm happy. My dogs bleeding is contained, and I'm a happy Dog Mom!