Titus Dog Jumper – For Your Bully?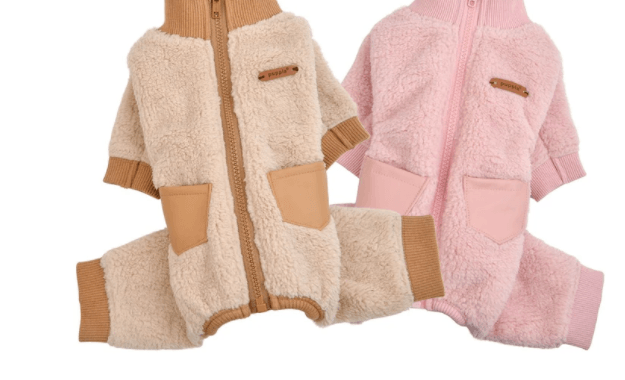 Baby, it's cold outside in Alaska! Our temperatures have been in the sub-zero ranges lately. January is typically a pretty cold month. But these last couple of days, well, brrr! So, what do we do for our dogs in these freezing temperatures? Put them in jumpers, of course! The Titus Dog Jumper to be exact.
Bundling up when it's -1 degree F, or, -18 degrees C is necessary. For our kids, our dogs and ourselves. This means, getting out the warm clothes for our pets. Imagine walking in just a thin layer in this stuff. No way! I wear thick leggings. A long sleeved shirt. A hoodie. Warm socks. Winter boots rated to -40 degree F and last, a warm winter coat.
Knowing that I wear all this to stay warm, what do I do for my dogs? Atlas is really the only one that goes everywhere with me. She gets the Titus Dog Jumper along with a hoodie and a coat or vest. Booties? Depends on if we're walking.
So, why this jumper?
I mentioned that it's super cold up here. When we go out, Atlas has to stay protected as well. It's just too cold for our dogs to be outside unprotected. Dogs, like humans, get hypothermia in extreme cold temperatures. While I put her in sweaters and coats, her legs are still exposed.
This Titus Dog Jumper covers her legs so that she stays more warm. I wouldn't walk outside in shorts right now, so why would Atlas? I get that she's a dog and has fur. But let's face it, her fur is so short she might as well be naked. Having her covered from head to toe ensures that she's kept safe. Even in the crazy cold temperatures of Alaska!
It's also easy to put on her since it zips up.
It Zips Up!
Not all dog clothing is made equally, let me say. Take for example, clothes with Velcro. It doesn't work well on big dogs. It always comes undone. That, and it starts to wear out after a few uses. So, I value clothing for Atlas that zips up. Just like with her vests, I always opt for the zip up ones.
Here, you can see that on a warmer day, she wears a sweater and a vest. She actually loves her clothes and she stays warm. Protecting my dogs is essential to me. They're part of my family, so I care for them like I do my kids. I dress Atlas based on the weather.
Warmer days mean just a vest or sweater. Very cold days, usually a coat as well. If we're going for long walks, than booties are necessary. But for these cold, cold days, the jumper. Now that I have one!
Easy For Atlas To Go Outside.
I mentioned the ease of having a zipper on the Titus Dog Jumper. A zipper means it's easy to lay this jumper out and slip it right on her. Often, I'm in a rush to leave the house, so I need something easy. And this jumper is easy to put on. I've bought clothes in the past for her that are a pain to get on.
Some dog clothes simply don't have a lot of stretch. Or, there's too many things going on that it's just a pain to get on a dog, period. Now, Atlas is pretty good with clothes. She lets me put her in anything! Atlas just loves her clothes and going places. Especially when she knows she's going with me.
So, no matter how little time I have, this is easy. I learned to lay it out on the bed, and she'll just stand over it for me. Then, I slide her legs in starting at the bottom. Next, on to her front legs and zip it up. Done! Plus, this one has some cute add-ons.
It Has Embellishments!
Don't think of embellishments like bedazzled. I mean the faux leather pockets. The little name tag at the top that says "Puppia."  It's very cute, I have to admit. I love the cuffs on this as well. Not all dog sweaters have quality cuffs. That means, their claws get caught in them. Once that happens, well, let the fraying begin.
If you're a woman reading this, then you know that cuffs are important. How many of your clothes have started fraying while wearing them. Next thing you know, you're dragging strings behind you. Nothing is worse than watching your sweater come apart. Especially when there's nothing you can do about it.
So, while it might seem like a small thing, cuffs are important. Besides, don't you just love this Titus Dog Jumper? I sure do!
In The End, It's For Warmth.
I've mentioned a lot about this jumper. While everything I've mentioned sounds amazing, it's about the warmth. The thick layer of this jumper is what brought me to purchase it. Atlas is very short haired. She gets cold, very easily. Even walking the other day when it was warm outside, we had to make the walk quick. It wasn't so cold to warrant booties, so, a short walk.
She played in the snow for a bit. She ran around the woods and chased birds. As long as she had fun. All the while, I'm keeping an eye on her to see if she's shivering. I bet, that had I had this jumper, she would've been warm all day. But, I'll have it for next year when it's cold again.
Alaska always gets cold. It's a guarantee. So, I buy things for Atlas that I know will last. Quality over quantity any day. Bitch New York hasn't let me down yet. I've bought quite a few things from their site. All of their clothes have stood the test of Atlas. She plays hard, and she loves to chase things in the woods. The cheaper clothing tends to fall apart. Especially when I wash it for the first time.
So, I'm happy with this $88 purchase. I imagine it'll last for years!
How do you keep your Bullies warm in the cold?