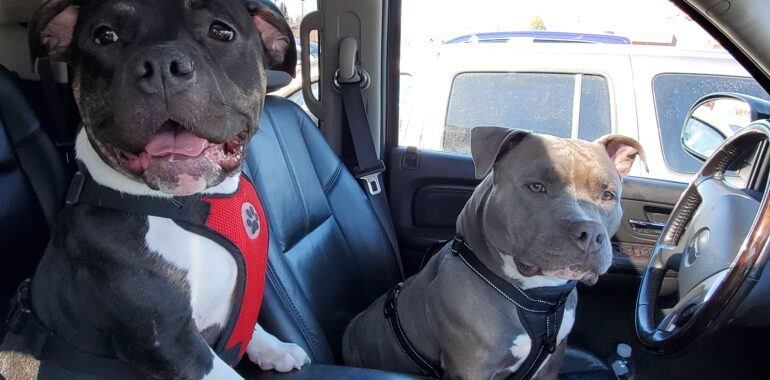 Lately, as I'm running errands, I'm seeing a lot of dogs in people's cars.  Don't get me wrong, I leave mine in there as well.  However, I leave my car running with the AC on.  One of the dangers to your pets this summer, is heat exhaustion.  Cars tend to heat up in the sun very, very quickly.  This poses a real danger to the dogs left inside.
Not only are hot cars a danger to your pets, but dropped food is as well.  Ah, summer, the time of BBQ's!  Everyone I know has had numerous BBQ's already.  Which, summer is great for!  But, when we get outside, we tend to not care so much about dropped food.  Xylitol is an artificial sweetener that can wind up in BBQ sauces.  It's also in a lot of candy as well.  Xylitol is extremely poisonous to dogs.
Now, we've covered the hot cars, the dropped food, but what about bug bites?  Especially in the South where wasps and ticks are everywhere!  Unfortunately for our pets, ticks carry a lot of disease with them.  You'll want to protect your pets from them.    Mosquitoes as well.  Unfortunately for dogs, they can carry heart worm and this can be deadly to our pets.
So, let's get down to some details, shall we?
The Sun Heats the Cars Quickly.
The sun heats the cars everywhere!  Not just the South.  Even in Alaska, the sun still bakes our cars.  While the temperature might only be 60 degrees, no wind, high sun – this leads to an extremely hot car.  But, if you leave the AC on, it'll keep your car cool.  The problem?  Not a lot of people like to leave their cars running while shopping.
When the sun is out up here, I leave my car running with all the doors locked.  Mind you, I have a push start, otherwise I wouldn't want to leave my keys in the ignition.  If you have a push button start, try leaving the car running.  Take the key fob with you and just lock the doors when you step out.  I will note, I always check to make sure the doors actually lock though.  Not all push starts will lock the doors with the car running.
Know your vehicle!
Now, what about auto-start?
Auto-Start?
Most cars have an auto-start feature, especially in Alaska.  I would recommend if you plan on taking your dogs with you, to
have this installed in your vehicles.  The only thing with auto-start though, is there's a time limit.  Generally, 15 minutes is the max time for auto-start.  Not only that, but some only start it twice before it won't start again.
So, be sure that you know your cars limits with auto-start. Also, be sure that it runs the AC for you and not just the heat.  This way, a quick run to the grocery store won't harm your dog while they wait for you.  If you don't have these features, I would leave them at home if you can to protect them from heat stroke or worse.   That, or leave the windows down and water available for them to drink.  But don't leave them in there long.  A max time of 20 mins should be it.
We've covered cars, now let's talk food!
Dropped Food can Pose a Risk.
We all love a good BBQ, but our dogs can't always eat what we can.  One type of food that is especially dangerous to dogs is an artificial sweetener, Xylitol.  It's widely used in a lot of sweeter treats, like candy and gum.  In fact, just 2 pieces of gum containing Xylitol is enough to kill a small dog.
Atlas had a scare not long ago when I thought she got into some gum.  I had to rush her to the ER after inducing vomiting.  The vet had to do check ups on her liver enzymes to be sure she was stable.  All it took was the possibility of her getting into 2 pieces of Trident gum.  The highest amount of Xylitol in any gum.
But that's not all that contains Xylitol.  It's also in a lot of desserts as well.  It's basically a zero-calorie sweetener and companies love to use these.  So, read labels and to be completely safe, don't bring it in the house!
Now that we've covered Xylitol, what other foods are dangerous to your pets?
That's not all when it comes to food.  Dogs can't eat chocolate, coffee, alcoholic drinks, garlic, onions and the list goes on.  In fact, some of these foods are so dangerous, they can shut down a dogs organ system in just hours.  High doses of certain foods at once can also cause some major stomach problems for dogs.
Nuts and seeds also pose a risk.  And we all love nuts and seeds, especially at a BBQ.  Did you know that cherry stems are arsenic?  Yup.  They pose a serious risk to dogs.  Grapes and raisins?  Very, very toxic.
So, before you BBQ, especially with friends, make sure they know not to drop food. Or, simply keep your dogs away from the kids table.  All kids love to drop food.  And, if your dogs are like mine, they know to stand right by the young kids.  They always get fed when the young kids are around!
Now that food's been briefly covered, what about insects?
Insects can Pose a very high Risk.
Summer is here and while we love being outdoors, the insects do, too.  In fact, this is the time they thrive the most!  Wasps are out, bees, ticks and all the other little creatures!  And, what do they love? Well, that depends, but some just love blood! Ticks and mosquitoes both pose dangers to your pets this summer.  Ticks carry Lyme disease and spread it as their head gets embedded in the skin.
Mosquitoes carry heart worm and it's easily transmitted with a single bite.  Heart worm is fatal to pets if left untreated.  For your pets this summer, be sure to keep them protected with a mosquito repellent, as well as tick and flea protection.  Our pets want to be outside just as much as we do.  But they can't swat away at pesky mosquitoes, nor do they know when a
tick is crawling up their legs.
So, wherever you live, protect them while they're outdoors.
Final Words on Dangers to your Pets this Summer.
We've covered a few topics so far.  Hopefully, you now know more about the dangers to your pets this summer. Keep the car running with the AC on.  Be sure to keep food from dropping on the ground that your dogs can't eat.  In fact, just try to keep the dogs enclosed in a pen area so they're safe!   Just during the BBQ's.
Don't forget about the tick and flea repellents.  And the mosquito repellent as well!  I don't know about you, but I know I hate the mosquitoes in Alaska in the summer!  They might as well be the state bird with how big they get!  And the welts they leave on poor Atlas!  I always feel so bad for her when I don't spray her down first before she runs outside.
Also, if you're done trekking through the woods with your dogs, check their paws for ticks hiding out.  Ticks love to get in between dog's toes and stay there until they can get to a better location.  Paws and ears.  Ticks love those 2 spots.
Keep a close eye on your pets this summer.  Make sure they have water, a shady location to go to if they're stuck outdoors.  If you keep them tied up, make sure they have enough slack to be able to get to shade on those hot days too!
Do you have any suggestions to add?  Let us know in the comments!