Is Pumpkin Good For Bully Breed Dogs?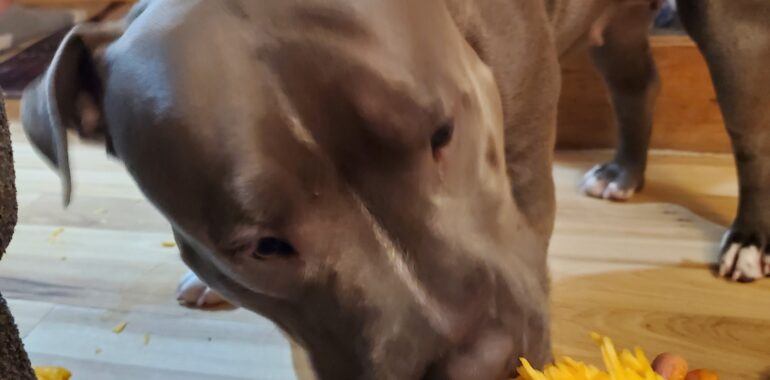 My children wanted to carve pumpkins since it's so close to Halloween and my Bully, Atlas, was all over it.  I had never given Atlas pumpkin before, so I questioned it.  Is pumpkin good for Bully breed dogs?  Yes, very.
I'm sure you know that I'm always cautious what I feed my Bully.  She's a huge part of our family, and I always want to make sure she's healthy.  Whenever I question anything, I make sure to do thorough research before she gets into something.  I'm sure you remember my article on Xylitol being toxic for them.  Garlic and onions is another.  But pumpkin?  There's so many health benefits, so she went to town on all parts of the insides!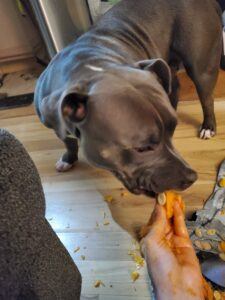 Pumpkin is Good for Bullies Digestion.
Bully breeds tend to have sensitive stomachs.  Anyone with a Bully breed knows this already.  I don't know what it is that makes them so sensitive, it's just part of their bodies.  However, just like when they eat grass to calm their stomachs, pumpkin does the same thing.
Next time your Bully has an upset stomach, try feeding them pumpkin.  I know we can't always go to the store and buy a pumpkin.  They do tend to have to be in season.  But did you know that you can feed them canned pumpkin as well?  Of course, make sure there isn't junk in there.  Added sugars, salt, or other ingredients.
You'll want the canned pumpkin to be as natural as possible for the digestive aid.
Pumpkin is Good for Bullies Urinary System.
Pumpkin also helps in their urinary tract function.  I've heard of some Bully breeds getting Urinary Tract Infections, similar to some humans.  Apparently they can be prone to getting these.  Most likely because of their size, they need a lot of water to help their kidneys function.
Just like with humans, if we are larger, we need more water to support our system.  The common method to use for water consumption is 1/2 oz per pound of weight.  So, let's imagine you weigh 140 lbs, that means you need 70 oz of water to support your internal organs.
My dog Atlas weighs 52 lbs, so she needs 52 / 2 = 26 oz of water.  The equivalent of a little over 3 cups of water.  I understand it might seem like your dog gets this.  Face it, our Bullies rarely leave the water bowl.  In reality, their tongues bring water up under the tongue to the mouth.  So they need a lot of licks to get 3 cups of water daily.
Also, if their water bowl is plastic, they tend to get slime on them.  Dogs don't like this, so they'll snuff their noses up at that stale water.  Be sure their bowl is cleaned on a regular basis to ensure they get enough water and that they actually drink it.
Pumpkin is Good for Bullies Weight.
Pumpkin is very high in fiber, so it will fill them up quickly.  I don't see many Bully breed dogs that are overweight, but they can tend to hold fat reserves easily, especially if they're the shorter, stockier breeds.  Atlas is a Pocket Bully, so she's only 16″ to her withers.  The withers is their shoulders by the way.
Let's talk about how to know if your dog is overweight for a moment.  Most people tend to think that thick dogs are overweight.  This is not the case.  Or that extra skin means fat.  Also, not the case. Dogs are overweight when you can no longer see their ribs at all.  This is not the same as seeing their ribs all the time.  The opposite.  Dogs with ribs sticking out prominently are underweight.
For a dog to be at normal weight, when they walk, you can just see the play in their ribs.  Dogs carry weight around their mid section, near their rib cage.  As they walk or run, you should be able to just see their ribs.  This is a healthy weight.
So if your dog is overweight, adding pumpkin to their food will allow them to eat less.  The fiber will fill them up quickly, and they will start to become a normal weight within weeks.
Is Pumpkin Good for Bully Breed Dogs for Other Reasons?
Pumpkin has a ton of other benefits, not only for the reasons listed above, but for other reasons as well.  The pumpkin has a ton of fiber in it!  Fiber plays a huge role in not only helping to fill us up, but also to regulate us.  Okay, I'm sorry to have to say this, but it helps with our poo.  Yes, your dogs too!
I know many don't like to think about our poo, but our poo is important.  Dogs too.  If your dog has very runny stool, they probably have a diet that's very high in protein and not enough fiber.  Dogs need fiber, just like we do.  Most people don't think dogs internal workings are like ours, but they are.  I always make sure my dog has a very healthy diet and her stool is consistent.
Pumpkin is also rich in potassium, calcium and magnesium.  Potassium is very good for muscle functions as well as blood pressure regulations.
Calcium is needed for bone growth and development.  If your dogs bones are strong, they'll be stronger and less likely to break bones.  We definitely want bone strength.
Lastly, Magnesium is good for muscle building.  Basically, it helps in making proteins which our Bullies need to be strong.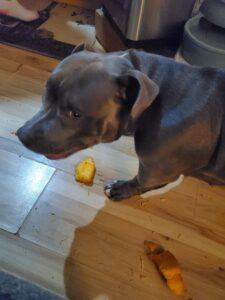 Is Pumpkin Good for Bully Breed Dogs?
I hope you've seen all the benefits this large orange gourd can provide.  I know we don't think about this often since it's really around this time of year the pumpkin becomes popular.  However, with all the health benefits it provides, I'm tempted to make this a staple for Atlas year round.
Last night, she ate every part of the pumpkin.  I wasn't sure about pumpkin being good for her, until last night.  As my daughter is getting all the tools out to start the carving process, I'm quickly thumbing through .org sites to ensure she can eat this before it littered my floor.
I didn't even have to give any to Atlas, either.  As soon as the pulp and seeds hit the floor, she started in on it like it was a steak.  Chewing through everything and lapping up any missed morsels, she ate well.  She ate into the rind and every part that came off that pumpkin.
I was hesitant even to the amount she was consuming, but because of all the benefits to it, and her size, I let her have at it.  She loved it.  Over the course of the night, I thought for sure she would have to wake up to go outside, but not a peep.  She slept all night, very well, and today is just fine.  Her stool even looks great and healthy.
So, yes.  Is pumpkin good for your Bully breed dogs?  Absolutely!  I'll be feeding her pumpkin regularly now.